Mirage MX Speaker System
Price
: $1,200
At A Glance
: Compact satellites with Omnipolar driver array • Eight-inch cube sub with dual 6.5-inch passive radiators • Suitable for small rooms
In a Reflective Mood
It is rare for a carton to put a smile on my face. A lot of cartons trample through my modest living and working space. They are a necessary evil in my work as a reviewer that's redeemed only by their contents. But the carton that housed the Mirage MX satellite/subwoofer set made me grin when I picked it up in my doorway. It weighed all of 20 pounds, portending a review process without physical rigors. I deposited it in my bedroom along with the other treasures that live there—my books, my LPs, my bags of speaker cable, my collection of styrofoam popcorn and plastic bubble packing, not to mention my bed—and forgot about it until the time came for its debut in the listening room.
When it got on deck, the MX continued to infuse my demeanor with good cheer, and this is a demeanor that once caused an anonymous elderly woman at the laundromat to spontaneously observe: "Come on, life can't be that bad." The satellite ($150 each) is about the weight of a softball, and the sub ($600) is the weight of a stack of hardcover books. Some speaker packages out there inhibit one of the most basic human rights, the right to move things around and vacuum your home. This is not one of them. The only folks not smiling are the dust mites.
The 5.1-channel MX system comes as a package for $1,200, but the satellites and subwoofer are also available individually.
Thinking Reflectively
While most speakers are designed to beam sound straight at the listener, the MX satellite pursues a strategy that emphasizes reflected over direct sound. The company's official name for this is Omnipolar. Only about 30 percent of the sound that reaches the listener is direct; the remainder reflects off walls, ceiling, floor, and whatever else happens to be sitting around the room. This could possibly include your eyeglasses, but let's not get into that.
The satellite is 4 inches tall. Despite the modest plastic enclosure, it is well made. The magnetically attached grille includes a cage that protects the drivers from small, wayward fingers. If you pull off the grille, you'll see that the top section has a wedge shape that inclines toward the listener.
A 2.5-inch aluminum coned woofer sits in the angled baffle. On top of that is Mirage's Omniguide module. The Omniguide contains two spoon-shaped structures called deflectors. One, the size of a tablespoon, hovers above the woofer. Its bottom surface reflects and diffuses sound from the woofer. The deflector's top surface contains the 0.63-inch hybrid titanium tweeter, which is topped by a smaller deflector that's the size of a teaspoon. The spoon-like structures make me long for a bowl of milky oatmeal and a cup of tea.
Mirage's list of Omnipolar virtues includes "excellent imaging, width, and depth," according to the literature. And the sats "perform optimally regardless of where they are placed in a room. In other words, they take full advantage of the fact that they cannot be separated from your room."
The rounded back of the glossy polycarbonate enclosure includes a keyhole mount. There are also two entry points for speaker cable on the back. To access the spring-loaded binding posts inside them, you have to pull a small rubber tab off the bottom. That's where you can press the buttons that open the holes in the posts.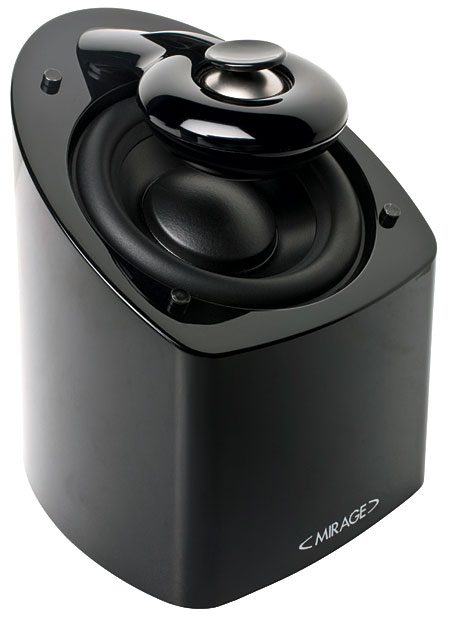 Pushing in your cable tips is not as easy as it could be. They have to go through half-inch-long recesses, then penetrate the tiny post holes. The latter part is like threading a needle. Forget about thickly insulated premium cable, banana plugs, spade lugs, or even conventional pin connectors—although the latter may work if they're straight and at least 0.75 inches long. If you're using bare wire, the cable tip has to be fairly thin. I'd guess 18-gauge would be the right fit. Soldering the tip might help prevent copper strands from going astray.
Mirage's MM-6 subwoofer is an 8-inch cube with a 6.5-inch front-mounted aluminum woofer that propels two same-sized passive radiators, one on each side. The active driver has a grille; the passive drivers do not. Connectivity is limited to a pair of RCA-type inputs. The phase dial is slightly unusual in that it goes not just from 0 to 180, but all the way to 360.
Associated gear continues to include a Rotel RSX-1065 A/V receiver, Pioneer BDP-HD1 Blu-ray player, Integra DPS-10.5 universal player, Rega Planar 25 turntable, Shure V97xE phono cartridge, and NAD PP-1 phono preamp.
Mr. Big
"Big, but diffuse, but big!" I wrote in my notebook sometime during the first half-hour of Blue Streak, with Martin Lawrence as a manic burglar posing as a manic cop. The Blu-ray Disc's Dolby TrueHD soundtrack is full of aggressive effects, which the Mirage deliv-
ered in a manner that was vivid, spacious, and non-fatiguing—but also soft-edged and less than perfectly localizable. Subjectively, it felt good. Vocal clarity was sufficient but not outstanding. The soundfield was airy and involving, if a little gauzy. But this was something I got used to after a while. There were two moments when the system genuinely startled me—a car door slamming in the front right channel, and a helicopter suddenly appearing in the surround-left channel and zooming forward. Big can be very effective.
The pint-size sub had to operate at a high-ish 120-hertz crossover due to the small size of the satellites, which filled out the upper-bass frequencies that those speakers would normally handle. Considering the challenge it faced, it acquitted itself well, especially with male vocals. The point where a baritone crossed over from sub to sats was not overly obvious unless I listened for it. I kept the sub directly beneath the center speaker, which probably helped in that regard. In general, the sub didn't sound like a big sub, but it did sound like a very good small one.