The Miller Brothers Band
"He better stop doing that blues shit." So sneered a fairly svelte brunette seated in front of me during the classic-rock two-fer show I saw at PNC in NJ this past Friday (7/27): the Doobie Brothers and the Steve Miller Band. In this case, "he" was Steve Miller and I could not have DISAGREED more with Ms. Buff Brunette. What could have easily been a rubber-stamped going-through-the-motions affair for both acts was instead a quite lively and engaging gig. And all from the seventh row, no less (specifically, Row G, Right Orch Center, the two on the end - for once, the almighty Ticketmaster came through. "If only we could get these seats for every show we see here," was the first thing I said to the Mrs. as soon as we got down to 'em.)
The Doobies opened the show promptly at 7:30 with their 1991 hit "Dangerous." It took a few songs for the crowd, the band, and the overall vibe to pick up steam after that, but when everything started clicking, the whole house was SMOKIN'. While John McFee handled the majority of the solos (even picking up the fiddle at one point!), both Tom Johnston and Patrick Simmons came to the lip of the stage plenty of times to peel off some nice 'n' tasty licks of their own.
Perhaps people tend to think more of the friendlier easy-listening Michael McDonald era of the band - which did have its occasional merits, don't get me wrong - but this is a band that really knows how to harmonize on good, solid, hard-charging FM hits that just didn't feel tired at all: "Jesus Is Just Alright," "Black Water," "Long Train Runnin," "Take Me in Your Arms," "China Grove," "Listen to the Music" - killer cuts all. I did miss hearing concert staple and personal favorite "South City Midnight Lady," as well as their late-'80s comeback hit "The Doctor," but I guess that's the tradeoff for doing a co-headlining bill. (And how 'bout that, er, holier-than-thou effect on the Doobie foursome pic?)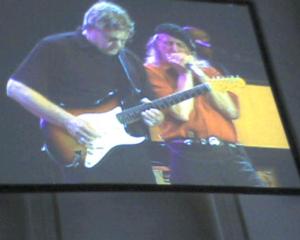 As for Steve Miller, he could have easily gone on autopilot and just churned out hit after AOR hit, but that's not his live style. He did open the show with a gutsy, lengthy, jazzy-improv-oriented take on "Fly Like an Eagle" that left many scratching their heads, myself included. I think it was too early in the set to veer that far off the map, especially since the Doobies had just revved everybody's engines for the bulk of their 80-minute stint. But Steve was clearly headed down his own path from the outset, grinning and nodding at his band during each twist and turn in the jam. (He kept referring to what they were doing all throughout the show as hitting various musical destinations in "Swingtown" - though, of course, they never played that one.) He tossed in "Abracadabra" early to placate the fairweather masses, but he sang it offhandedly and practically offkey, as if he was rushing through it so he could get to the REAL fun. That's when the set really took off for me - and started annoying those around me who obviously would have preferred the Greatest Hits route. And what tasty treats we got: longtime concert go-to "Mercury Blues"; the 1968 Boz Scaggs-penned gem "Stepping Stone"; the Joker-era classic "Shu Ba Da Du Ma Ma Ma Ma" (there's a great take on "Shu Ba" by, believe it or not, David Lee Roth, on 2003's Diamond Dave); an in-the-pocket cover of Mike Bloomfield's Electric Flag-era stomper "Texas" with the Doobies' Johnston joining on guitar (second from right in the above pic) and Marc Russo jumping in on sax; an even-more countrified version of "Dance Dance Dance" with the Doobies' John McFee on violin, gamely battling a bad plug-in; and "All Your Love (I Miss Lovin')," which was covered on his last studio album, 1993's Wide River, and treated here with vocals reminiscent of John Mayall. Yes, people grumbled and got restless during this long stretch, but many of these songs are easily found on his multi-million-selling albums, so, sorry folks, but I could not sympathize; instead, I felt like I was at a club gig where almost all of my set requests got honored. And some people even left! Good riddance to them, sez I. Hell, if Steve had thrown in "Song for Our Ancestors" and "Baby's Callin' Me Home," I would've fallen out of my chair.
Miller, of course, knows his where his bread is ultimately buttered and fired off a round of hits to close the show ("Rock'n Me," "Take the Money and Run," "The Joker," "Jungle Love," "Jet Airliner"), but his mid-set adventurousness was what got me to head back to early albums like Children of the Future, Sailor, and Brave New World for a refresher course on the seeds of the Gangster's true fine loves. -Mike Mettler
LATEST VIDEO