Michael Clayton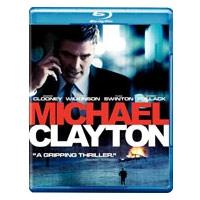 Warner Home Video
---
Movie •••½ Picture •••½ Sound •••½ Extras ••
"You load sixteen tons, and what do you get? / Another day older and deeper in debt / Saint Peter, don't you call me, 'cause I can't go / I owe my soul to the company store."
Merle Travis's lyrics could pretty much sum up both the mood of Michael Clayton and the life of its titular character, played in an Oscar-nominated turn by George Clooney. A fixer in a high-priced law firm, Clayton cleans up the personal messes of attorneys and clients while the firm does the same on a corporate level. It's a dirty job in a dirty world where everyone just looks after themselves, and alongside Clooney, some great actors - fellow Oscar nominee Tom Wilkinson, Oscar winner Tilda Swinton, and the late Sydney Pollack - portray all this nasty behavior wonderfully, almost subliminally revealing how soul-destroying it is.
Most of the office scenes exhibit a range of steely grays, which have their own beauty in this well-contrasted VC-1 transfer. Clayton's town car is deeply black, while snow-covered fields are white enough to evoke the simpler, cleaner lives of the farmers who are partaking in a class-action lawsuit against a polluting agricultural-products company. In scenes set in Chinatown, where Clayton goes to lose money at high-stakes poker games, backgrounds are magically alive with out-of-focus red, yellow, and blue lights. Elsewhere, colors are always natural-looking, from skin tones to rich but not oversaturated red telephones.
Night driving scenes are a bit muddied, but otherwise, images are detailed and sharp, with Clooney's feathered salt-and-pepper hair always very textured. The highly checkered silk tie of Pollack (who also co-produced) has none of the moiré patterns you used to get with DVDs, and you can see every tiny square in it.
The Dolby Digital 5.1 sound is generally clean, with all that important dialogue clear. Effects - a slamming door, a car cruising by, a sudden explosion - are well placed across the front, but the surround channels are rarely used beyond bringing James Newton Howard's ominous, brooding music more into the room.
A commentary by the interesting combo of writer/director Tony Gilroy and editor John Gilroy is informative about the preproduction and the shoot but disappointingly non-analytical about directing or editing. The only other extra: 6 minutes of deleted scenes (with optional commentary), worth watching for the acting in one scene between Clooney and Jennifer Ehle, whose part as his girlfriend was cut out of the movie.
LATEST VIDEO