McIntosh Unveils One-of-a-Kind 'Integrated Turntable'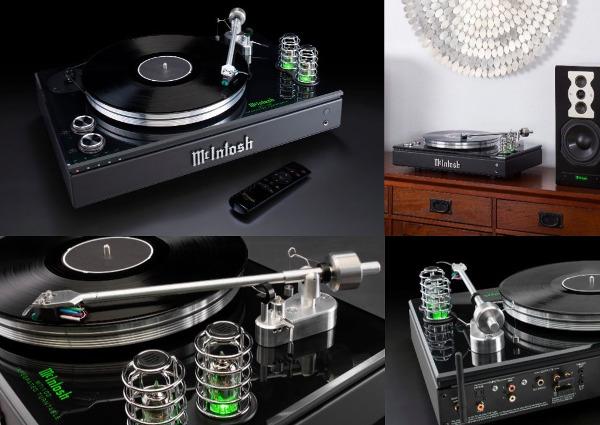 McIntosh is thinking out of the box as it enters into its 70th anniversary year with an audio product best described by one word: unique.
The iconic audio company today announced the MTI100, an "integrated turntable" that incorporates a tube preamplifier/phono preamp and power amplifier in one elegant component built for vinyl lovers who want maximum flexibility but don't want — or don't have the space for — an expansive audio system.
Just add speakers and you're off and running.
McIntosh dealers are accepting orders for the MTI100 with shipments expected to begin by the end of the month. The price is $6,500.
Besides playing 33-1/3 and 45 rpm records, the "turntable" supports Bluetooth 4.2 streaming and is equipped analog and (coaxial and optical) digital inputs, outputs for a pair of speakers plus a subwoofer, and a headphone jack powered by McIntosh's High Drive headphone amp said to accommodate virtually all types of headphones.
The preamp section, powered by a pair of classic 12AX7 vacuum tubes that rise prominently from the base of the turntable, features a dedicated phono preamp housed in a noise-resistant box. System power is provided by an onboard Class D amplifier rated to deliver 50 watts per channel into 8 ohms or 80 watts a side into 4 ohms.
About that turntable: It's a two-speed, belt-driven design that boasts a 7-pound machined-aluminum platter and matching machined-aluminum tonearm that sits atop a 0.4-inch-thick piece of glass, which in turn rests on a hefty 0.25-inch-thick metal plate designed to fend off noise from external vibrations. The tonearm is fitted with a Sumiko Olympia moving-magnet cartridge featuring an upgraded stylus and cantilever assembly for "more dynamic punch and improved frequency response."
The platter is driven by an industrial-grade AC synchronous motor with permanent magnets and a two-speed pulley. Platter speed is synced to the AC power line's frequency to deliver precise rotational speeds for playback accuracy, according to McIntosh.
The system can be controlled by two large knobs on the base of the turntable or via a hand-held remote control.
For more information, visit www.mcintoshlabs.com.