McIntosh Unveils Home Theater Processors, Amp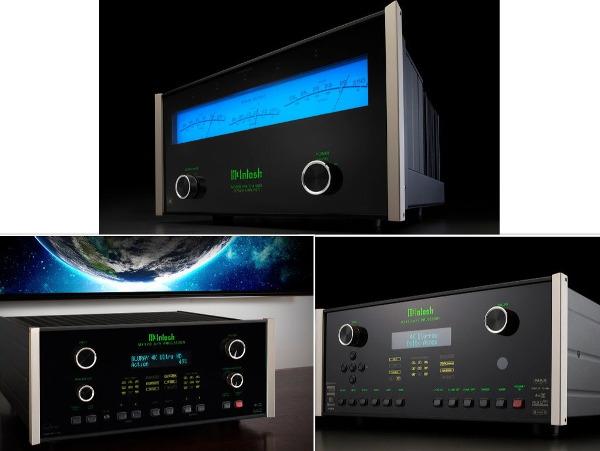 McIntosh today announced a trio of high-performance home theater products that are scheduled to begin shipping later in the month.
The new MX170 and MX123 AV processors and MC255 power amp follow the $10,000 seven-channel MC257 amp introduced a couple of weeks ago and are currently available for pre-order.
Essentially a five-channel version of the MC257, the $8,000 MC255 packs five 200-watt channels into a large chassis adorned with McIntosh's new TripleView power meter, which displays the output of its three front channels in real time against the brand's signature blue backlighting. The 15-inch-wide display can be turned off to prevent its LED backlighting from creating a distraction while watching a movie.
The amp is rated to deliver 5 x 200 watts per channel into 4 or 8 ohms, thanks to McIntosh's proprietary Dynamic Power Manager (DPM) technology, and it can be configured to drive three channels with 250 watts apiece plus a second zone with 2 x 200 watts.
Like its big brother, the MC255 is the beneficiary of several upgrades, including a 50% increase in filter capacity, which is said to improve low-frequency performance and more than double dynamic headroom from 1.7 dB to 3.6 dB, gold-plated binding posts, and heatsinks that draw heat away from its high-current output transistors, negating the need for a fan.
Other key features include balanced and unbalanced inputs, a specially wound toroidal isolation power transformer that helps keep noise to a minimum, and the McIntosh signature features Power Guard, which prevents potential speaker damage if the amplifier is driven into clipping, and Sentry Monitor, which protects against short-circuits by disengaging the output stage if operating current exceeds safe levels. The amplifier turns itself off when no input signal has been detected for a set amount of time.
Hailed as state of the art, the 15.1-channel MX170 and 13.2-channel MX123 preamp/processors are priced at $15,500 and $8,000, respectively, and feature McIntosh's traditional black-glass front panel, control knobs, illuminated logo, and aluminum end caps. Both are equipped with Dolby Atmos, DTS:X, and Auro-3D immersive surround processing, bass and treble controls, and enhanced Audio Return Channel (eARC) on one HDMI output for accommodating high-quality audio from a TV. Both models also support 3D video as well as 18 Gbps bandwidth for passing 4K signals at 50/60 Hz with 4:4:4 color and three high dynamic range (HDR) formats: Dolby Vision, HDR10, and Hybrid Log-Gamma (HLG).
The MX170 provides eight HDMI inputs and four outputs — all HDCP 2.2-compliant — standard ARC on three outputs, an HDBaseT output to prevent signal degradation when the TV screen is far away, and McIntosh's automated RoomPerfect calibration system, which optimizes frequency response, speaker levels, and the bass transition between the main speakers and subwoofers.
Four optical and three coaxial digital inputs are provided along with a digital balanced input, and USB port — all of which are designed to accommodate hi-res 24-bit/192-kHz signals. Analog connections include two balanced and four unbalanced inputs, a phono input, and a 7.1-channel unbalanced input. The preamp will support a fully balanced 15.1 surround-sound speaker setup, and four of its outputs can be used to bi-amp some of the speakers or drive additional subwoofers.
McIntosh says the MX170 employs new advances in processing power that allow it to run cooler while performing better than previous McIntosh processors. All analog and digital devices can be named to simplify system operation and their levels are matched to eliminate abrupt swings in volume when switching between sources.
The MX123 brings IMAX Enhanced processing into the fold and uses Audyssey MultEQ XT32 room correction instead of McIntosh's RoomPerfect; it also boasts a nine-band equalizer and its 13.2 channels are available in balanced and unbalanced form. The preamp can play hi-res DSD128 and ALAC 192-kHz files and supports multiroom wireless streaming via Bluetooth, Apple's AirPlay 2 platform with Siri voice control, and Spotify Connect. TuneIn internet radio is also integrated into the preamp and McIntosh has upgraded to 2.4/5-GHz dual-band wireless connectivity.
The MX123 provides seven HDMI inputs and three outputs — all HDCP 2.3-compliant. Additional connections include four digital audio inputs, one balanced and eight unbalanced analog stereo audio inputs (including one moving-magnet phono input), a Type A USB input, an unbalanced 7.1-channel input, and three component- and four composite-video inputs. On the output side, there are two unbalanced analog connections and one component-video and two composite-video outputs. The MX123 also has the flexibility to create two additional audio/video zones.
For more information, visit mcintoshlabs.com.