McIntosh Brings HD Radio Home
McIntosh is well-known for high-end audio amplifiers, and maybe their popularity will rub off on the HD Radio market. McIntosh just introduced the TM2 AM/FM HD Radio Tuner Module for the MA6600 integrated amplifier.
While HD Radio is struggling along in the car audio world, it's barely making a dent in the home market.
Apparently an optimist, McIntosh president Charlie Randall cited HD Radio broadcast awareness as one of the factors in creating the new module.
"HD Radio is one of the most exciting recent developments in broadcasting, and the trend continues to grow in popularity. In fact, according to a recent study, awareness of HD Radio broadcasts among radio listeners topped 75% in 2007, and the universe of stations broadcasting in HD continues to expand. By introducing our TM2 AM/FM HD Radio Module, we are giving our discriminating customers the very best option for enjoying all the benefits of HD Radio and more, with the unrivaled quality assurance and performance capabilities that only McIntosh can offer."
McIntosh says the TM2 will offer pristine CD-quality FM performance plus RDS data that will display artist, title and song information. It has a "Blend" feature that will let you choose between digital only, analog only or automatic blending between the two signal types. It comes with a Dual-Differential AM antenna so your AM favorites sound as good as your analog FM favorites.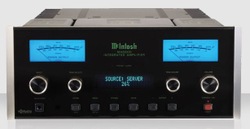 Other features of the TM2 include multi-Casting reception, and 18 presets for FM and AM stations. Users may view Signal Strength, Station and RDS data when the TM2 is connected via the MA6600's front-panel display. The TM2 may be controlled via the connected MA6600's remote control.
Unfortunately, quality comes with a price. The TM2 retails for $800. The MA6600 retails for $6,000. It's gonna be hard to convince users that HD Radio is worth that price tag. -Leslie Shapiro
Via Electronic House