Marantz VP-12S4 DLP Projector Page 2
Now, as is often the case, the flip side of this black level performance is a top-end that doesn't go as bright as many other projectors out there. The S4 is not deficient in this regard, but definitely sits at the low end of the light output range among digital projectors. But the overall balance of this projector's strengths is clearly oriented toward movie watching. With bright, video-based programs like sports, especially in HD, I did occasionally want more horsepower in light output than I could get with the S4, even with the iris opened to the F3.0 setting. The "High Bright" setting in the color temperature menu has a more noticeable impact on light output, but at the expense of some grayscale irregularities and color tint that I couldn't live with.
The NFL playoffs are a perfect example. These programs can just pop of the screen with the right combination of light output, resolution and a smartly chosen gamma curve. The Marantz has the sharpest image I've seen from a 720P projector. On the football games for example, scuffs on the helmets, the dyes used to draw logos on the fields, all of these fine details were vividly there and only a curmudgeon like me would fine any fault with these images. But the light output, and perhaps the gamma curve (even when switched to Dynamic) held the S4 back just a touch from delivering video-based HD images that popped off the screen like some projectors I've seen. Even with the light output driven as high as it could go without gross color distortion, the image was just a touch dim. This characteristic seems to have noticeably worsened with the bulb's age. I used this projector enough during the review period to get over 350 hours on the bulb, and while the bulb is rated to 2000 hours, the brightness seems to have dropped off significantly.
Something mentioned in that last paragraph deserves further extrapolation, and that's the overall sharpness of this projector's image. This projector is as crisp and sharp as they come- good enough to see when HD cameras are a smidge out of focus. I've not seen a projector with better edge-to-edge focus uniformity or such a complete lack of lens/optics related aberrations.
The scaling and processing doesn't hurt any either. Looking at signals from my Accupel signal generator I saw virtually flawless performance with the highest frequency areas of 720p burst patterns, and still respectable performance with 1080i bursts. With native 1080i material I preferred running the signal out of my DirectTV HD set-top box at full 1080i- the downconversion of the Marantz is far, far superior in clarity, dimensionality and overall smoothness to what's in the set-top box, especially with movies. I'm pretty sure that set-top box isn't doing 3/2 pulldown with 1080i movies!
While I was quite pleased with the VP-12S4's Gennum processing solution in image sharpness and clarity with all varieties of program material (even low-res images from basic DirecTV fare such as Comedy Central) I found the deinterlacing to be respectable rather than superlative. Although it did quite well with the film-based material and any tests regarding 3/2 pulldown, it didn't perform as well as the very best solutions with the video-based torture tests from the Silicon Optix and Faroudja DVDs. Because the image quality overall is so crystal clear, any flaws were easy to see. Video-based deinterlacing is even more critical for a display than a DVD player in my opinion because so many run of the mill TV programs are shot and/or edited on video.
Another area of performance that deserves mention is the color fidelity. Orange reds and limey greens are typical bugaboos for digital projectors, but you won't find them here. In particular the reds were brilliant deep crimson when called for, the best I've seen on a digital projector. These realistic reds also made deep, rich browns and contributed to exceptionally convincing and natural flesh tones- in my experience only Sharp's Z12000 MKII is this projector's equal with skin tones. The greens never flared into the nuclear lime zone, and the varying shades among the different field turfs during the NFL playoffs were always apparent, with no evidence of the projector imposing its own shade of green on the image. I'll be curious to see what Editor Tom Norton's measurements show, but if these colors measure wrong, I don't think I want to see something that measures right!
Over the last couple of years I've lived with not one, but three 1080P projectors: Sony's Qualia 004, Faroudja's DLA-1080P, and the Fujitsu LPF-D711W. Those 1080P projectors obviously charge ahead by a significant degree when 1080i HD is on the menu- there is no denying that. But the VP-12S4 holds its own in virtually all other regards. With DVDs it's as sharp and three-dimensional as any of those projectors, its colors look more natural to me (especially compared to the Fujiitsu), and its blacks are noticeably inkier. The Faroudja didn't have the inky blacks, but did have a more natural gamma curve and an overall look that was more organic.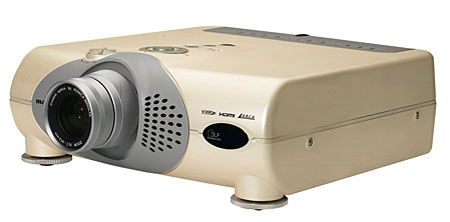 In addition to having better blacks than any of these projectors, the Marantz also maintains its high contrast ratio no matter what the program material throws at it. The LCoS projectors occasionally had trouble maintaining a high contrast image with mixes of light and dark material on screen at the same time. On the side of the Sony Qualia, the thing is a torch and I had the privilege of watching a Super Bowl on it in 1080i, and it did get into that rarified, looking through a window level. With bright, hi-res video-based HD the Qualia is beyond parallel. Still, the fact that this 720P projector is competitive with these much more expensive 1080P jobs speaks volumes of its abilities.
One last comment on having the VP-12S4 in my room: While it's quiet, it runs hotter than hell. Anything left on or around it will heat up, so set your beer somewhere else!
Conclusion
I can't pretend that this isn't an awkward time to be discussing a premium-priced, single-chip, 720P DLP front projector, let alone considering the purchase of one. Marantz has to acknowledge this too- it was one of many manufacturers showing static 1080P DLP projectors at CES that are targeted for release this year.
I also cannot pretend that Marantz hasn't delivered virtually flawless performance with the VP-12S4 in every way. I've reviewed many 720P projectors, and this one is the absolute best I've seen in many key ways, and the certainly the pinnacle in all around performance. Its blacks and contrast ratio are the best I've yet seen from any digital projector, and its overall crispness and sharpness are unparalleled. It has every critical feature one could want, and it's easy to set up optimally and use on a daily basis. Its only minor weakness is overall light output, but as a movie-first guy myself, I just can't bring myself to complain very loudly.
There isn't any question that premium 720P DLP front projection is going to be giving way to 1080P in the next year, but apparently not without making some noise first. Regardless of what may yet come, the VP-12S4 is one the best front projectors I've yet seen and lived with and its performance merits consideration by anyone shopping for a front projector in the here and now.
Highs and Lows
Highs
Deep, inky blacks
Razor sharp, three-dimensional imagery
Gorgeously natural colors
Outstanding, intuitive menus and remote
Refreshing lack of bogus image enhancement features
Lows
Low-ish light output
Only respectable deinterlacing
Slight black crush
LATEST VIDEO