Marantz SR5003 A/V Receiver
Price
: $800
At A Glance
: New rounded front panel is borrowed from higher-end gear • Audyssey MultEQ auto setup and room EQ • Audio circuits on separate circuit board
The Middle Kid Syndrome
As the third child in a series of four, I know what it's like to be in between. My older siblings arrived a decade before I did and towered over me with their adult-like achievements. They had summer jobs, bought Volkswagen Beetles, headed off to college, and—most fatefully, I now recognize—turned me on to rock 'n' roll. I was the pampered baby for a few years until my younger sibling arrived and, predictably, absorbed more of my mother's time. This made me terribly jealous.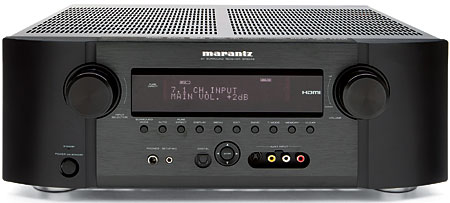 Surround receivers have their own in-between models. These midpriced models live in the shadows of their higher-priced, more powerful, and more fully featured family members. Yet they also risk being ignored in favor of their lower-priced siblings by less knowledgeable consumers who find all spec sheets equally impenetrable. If you want it all, you gravitate toward the top of the line. If not, you gravitate toward the bottom. Middle kids, like the Marantz SR5003 and me, attract the spec-savvy consumer on a budget—the one who asks, "Which of these things do I really need, and how little can I spend to get them?"
The Marantz SR5003 is worth some extra attention, even for the value-conscious shopper. Its rated 90 watts per channel are closer to the step-down model's 80 than to the step-up model's 110. But it's the lowest-priced receiver in Marantz's line that offers onboard decoding for lossless Dolby TrueHD, DTS-HD Master Audio, and their underrated lossy cousins, Dolby Digital Plus and DTS-HD High Resolution Audio.
The company even throws in a few extra Dolbys—Dolby Virtual Speaker, for the many consumers who still buy surround receivers and use them with two speakers, and Dolby Headphone, which brings surround-like effects to the private domain of wired listening. It also has THX Neural, which can serve as either an encode/decode format (in XMHD satellite radio broadcasts, among other uses) or as a stereo-to-surround enhancement for both music and games. Marantz also continues to support Circle Surround II from SRS, which is another stereo-to-surround enhancer that includes a scheme to enhance bass by manipulating the overtones associated with low frequencies. Finally, there's HDCD decoding for HDCD-encoded CD releases that squeeze extra resolution out of the least significant bit.
Another of the SR5003's middle-kid attractions is better auto setup and room correction. This receiver is not the least expensive Marantz to offer those features, but it does step up from the lower model's proprietary Marantz Room Acoustic Calibration (M.R.A.C.) to Audyssey's MultEQ. Audyssey takes measurements from different parts of the room and adjusts itself to provide improved sound to every seat in the house.
Curve Ahead
Aesthetic sophistication is all too rare in A/V receivers. But the SR5003 breaks from the pack (and from previous Marantz models) by adopting a convex front panel that's similar to those in the company's megabucks two-channel products. Although it appears to curve around the front in a single piece, it actually has extruded aluminum in the middle (where the display and most of the controls are) and glass-reinforced resin at the sides. The aluminum part is not just cosmetic. It also provides shielding. In addition, audio circuits are on a separate circuit board, away from the signal-polluting influence of video and control circuits.

The front panel has a knob on each side and a row of buttons beneath the display. However, the buttons are not for source selection. The left-hand knob performs that function. This has its pros and cons. You have to spin the knob as it cycles through sources until you find the right one. It would be simpler to just press a single button.
Ah, but if you want to press a button, first you have to find it. The knob is easier to find, even in the dark, regardless of where the receiver is sitting on your rack. For maximum efficiency, the most frequently used sources should be adjacent in the knob's cycle. I set up a Blu-ray player and a universal player, and I could switch between them with one increment on the knob—the tiniest flick of the wrist.
Marantz's menu graphics continue to be monochrome—every HTIB I've seen in the last two years has better-looking color graphics. Why some receiver makers lag behind mystifies me. Maybe they just assume that most users don't tweak after the first day of ownership. Or maybe postponing the upgrade is a cost-cutting move. The learning remote is conventional in shape and structure, but it's a snappy dresser, with amber backlighting and a strip of gray plastic that surrounds the black control panel.
Power is rated at 90 watts times seven. Marantz makes it a point to specify continuous power and to deliver at least 70 percent of rated power with five channels driven. [Marantz deserves praise here for underpromising and overdelivering. See HT Labs Measures.—Ed.] Connectivity is about average for a receiver at this price; there are three HDMI inputs and one out- put. You could also use the com- ponent video output to connect a second video display. Marantz uses an i-Chips video signal converter to upconvert lower-resolution signals to 1080p via HDMI-out. To find something fancier, you'd have to move up to the new AV8003 ($2,600) which has Anchor Bay video processing.