Marantz Launches Model 40n Network Integrated Amplifier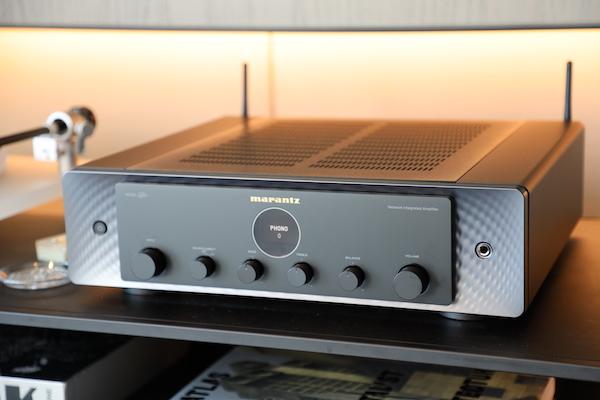 I've been told the pandemic is over and that things are opening up. That's hopefully the case, I said to myself as I headed out to the February 9 launch of the Marantz Model 40n network integrated amplifier.
Marantz events have never been shabby. However, this one, held at the tony Equinox Hotel in New York City's Hudson Yards, was decidedly upscale. Greeting me in a suite of rooms with breathtaking views of lower Manhattan were Yoshinori Yamada, Technical Category Manager of Audio and Video for Marantz, Sound United brand ambassador Gary Dayton, and Jessica Darrican from the company's PR firm.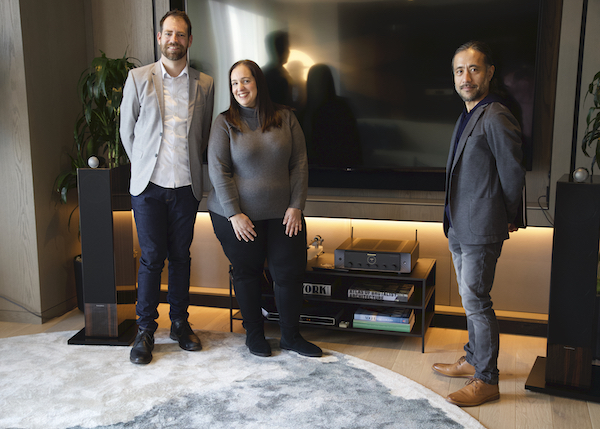 Sitting down on a comfy couch adorned with Marantz-branded throw pillows, I spotted the Model 40n ($2,499) sitting below what must have been an 80-inch television. Undoubtedly, this new Marantz component shares its striking industrial aesthetic with the company's Model 30 integrated amplifier, introduced in late 2020.
In one of the suite's rooms was a Model 40n matched with a pair of Bowers & Wilkins 702 S2 floorstanding loudspeakers and a Marantz TT15 belt-drive turntable. In another room was a Model 40n and a pair of Bowers & Wilkins 705 S2 standmounted speakers. After some small talk, my hosts filled me in on the Model 40n and yes, the "n" signifies that it has network capability. The short version: Add speakers and you're in business.
Now for the longer version. The Model 40n is a one-box audio hub for a single room or an entire house. It contains an integrated amplifier, digital-to-analog converter (DAC), network music streamer, phono stage, and headphone output. It features a newly designed 70Wpc class-A/B amplification stage, a beefy power supply transformer, four output transistors per channel, heavy copper bus bars, and short circuit paths which are said to lower the unit's internal impedance. According to Marantz, the Model 40n delivers high current on demand, thus making it a good match for even difficult to drive speakers.
Positioned between the Model 40n's volume control and its amplification stage are Marantz' proprietary Hyper-Dynamic Amplifier Modules (HDAM). Per Marantz, these modules widen dynamic range and frequency response and lower distortion.
The Model 40n handles digital conversion via an ESS ES9016 DAC chipset that processes PCM and DSD signals up to 24-bit/192kHz and 5.6MHz, respectively. Its internal moving magnet phono stage, called Marantz Musical Phono EQ, uses two amplification stages, which Marantz says allows for less gain per stage and thus lower distortion.
The Model 40n supports the Apple Music, Deezer, Pandora, Spotify, and Tidal music streaming services. Wireless connectivity options are Apple Airplay 2, Spotify Connect, Bluetooth, and Wi-Fi with Marantz HEOS technology, with the latter permitting the same or different songs to be played in multiple zones around the home. Wired connection highlights include HDMI ARC (Audio Return Channel), which facilitates audio playback from a TV, a subwoofer output with an adjustable crossover frequency, and a USB type-A port, which lets the Model 40n play locally stored music files.
Available in black and silver gold finishes, the Model 40n comes with a remote control and supports the Siri, Alexa, Google, and Josh ai. voice command systems, along with the Control4 smart home control system.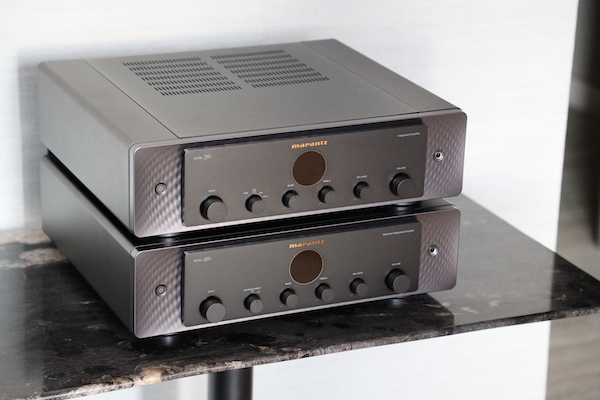 Having covered the Model 40n's basics, it was time to hear it in action with the 705 S2 speakers. First up were several movie clips, including Jurassic World, on which the Model 40n threw a huge and immersive soundstage. Dialogue was clear, and dinosaur grunts and roars were detailed and fairly weighty considering that there was no subwoofer. Movie aficionados will likely connect a sub to the Model 40n in order to add weight and extension to these types of low-end sounds.
Next, my hosts queued up Diana Krall's "No Moon at All" on the TT15 turntable. The sound of John Clayton, Jr.'s bass was clean and nimble, yet it had an earthy, dark, and resonant character. Krall's voice was sultry and seductive, and her piano notes had good sparkle.
The Model 40n is charged with delivering very good sound and has a generous feature package for the money plus an attractive, industrial-looking chassis. Paired with an appropriate pair of speakers, it will shame almost any sound bar and operate as a whole house audio hub.
Kudos to Marantz on an upscale and fun event. I enjoyed my time with the Model 40n and look forward to reviewing it for Sound & Vision.