Like Magic: Black Diamond Motorized Projection Screen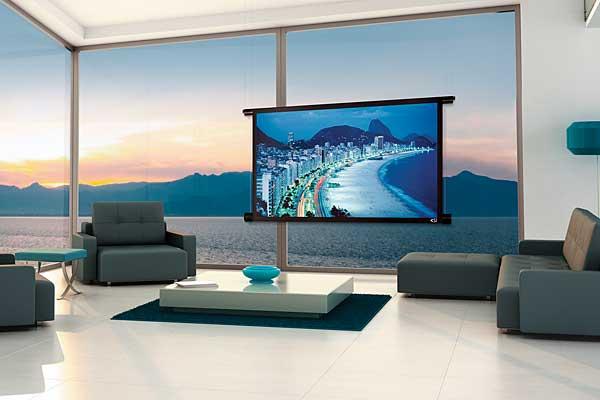 Hailed as a sleek "zero-glare" alternative to flat-panel TVs, the Black Diamond Motorized projection screen is ideal for minimalist décors and spaces that simply don't have room for a huge screen. Hit a wall switch and, like magic, a slender tube descends from the ceiling and the screen unfurls, suspended from ultra-slim aircraft cable.
The 4K-ready screen is designed to excel in bright environments thanks to SI's proprietary light-rejecting technology, which is said to reject ambient light scatter by more than 75 percent. Black, dark gray, and silver screen material options are available with respective gains of 0.8, 1.4, and 2.7 and horizontal viewing angles of 90, 100, and 160 degrees; vertical viewing angles are 33 degrees for the 0.8 and 1.4 gain screens and 35 degrees for the 2.7 gain screen.
Screen height is adjustable, and motorization is handled by a permanently lubricated Somfy asynchronous motor featuring overheat protection and an "extremely quiet" three-stage planetary gear mechanism with an electromagnetic disk brake. All Black Diamond Motorized screens include an IR receiver and remote control, a 12-volt trigger for automated setups, and a wall switch.
Respective pricing for a flush-mount box that disappears in the ceiling or an external-mount box that attaches to the ceiling is as follows: $6,400/$6,000 for the 92-inch screen, $6,900/$6,500 for the 100-inch screen, and $7,400/$7,000 for the 106-inch screen. You'll need at least two people to install a BD screen: Respective weight for 92-, 100-, and 106-inch screens is 178, 189, and 197 pounds.
Screen Innovations • (512) 832-6939 • screeninnovations.com
LATEST VIDEO