Lutron Announces DIY Lighting and Shade-Control System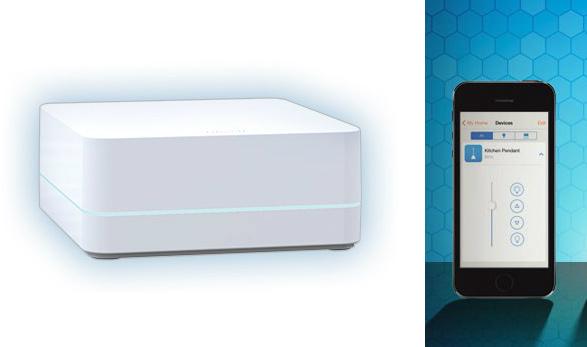 Lutron Electronics has introduced a wireless lighting and shade-control system for do-it-yourself consumers. The system comprises the Lutron Smart Bridge wireless bridge, which connects the company's Caséta Wireless dimmers, Pico remote controls, Serena remote-controlled shades, and other third-party devices, and an app for controlling lights and shades inside or outside the home from any iOS or Android-based smartphone or tablet.
The Smart Bridge allows consumers to schedule lights and shades to adjust automatically by time of day. The Lutron app can be used to check the status of lighting, shades, and temperature (when a compatible Honeywell Wi-Fi thermostat is installed) and set up automated lighting scenes in different rooms.
Setup and installation is said to take less than 30 minutes: The Smart Bridge plugs into the home's existing router and sends wireless, radio frequency (RF) communication signals to compatible Lutron devices.
Smart Bridge-compatible products include:
Caséta Wireless in-wall light dimmers that control overhead lights and work with dimmable LEDs, dimmable CFLs, halogens, and incandescent bulbs.
Caséta Wireless lamp dimmers that plug into a standard AC outlet to provide control of table and floor lamps (compatible with the bulbs mentioned above)
Pico battery-powered remote control for operating Caséta Wireless dimmers and Serena shades; it features a 10-year battery life and can be used as a hand-held remote, surface mounted to the wall or to a car visor, or placed on a tabletop.
Serena battery-powered, remote controlled shades, which are available in honeycomb and roller shade styles and run on D batteries with an average life span of three to five years based on two "ups" and two "downs" per day.
The Smart Bridge will be available to DIYers on
SerenaShades.com
for $150 starting September 1. For homeowners seeking professional installation, the Lutron Smart Bridge Pro will be available from local electricians, residential system providers, security professionals and lighting showrooms starting June 30. The Lutron Caséta Wireless package, featuring a Pico remote control with a dimmer (either wall or lamp), is available now for $80. The Lutron app is free will be available through the App Store and Google Play on June 30.
More information is available on casetawireless.com.