Lord of the Rings Extended Blu-ray Goes Up for Pre-Order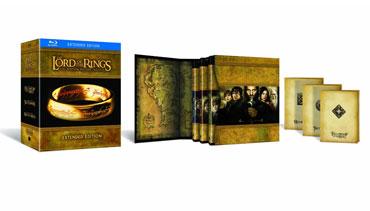 The other trilogy has already been available on Blu-ray for some time, but it seems the release of the extended Lord of the Rings trilogy is finally almost upon us. Amazon is currently taking pre-orders for $90.

Unfortunately, it doesn't offer a date as to when exactly it will start shipping, but it does confirm that the special features selection will be the same as the DVD releases, which have been around for the better part of a decade. There are a couple of Blu-only extras, including the Costa Botes documentaries, which were available on the original DVD releases and a downloadable digital copy (you'll get a download code in the case, not an extra disc with a digital movie).

Some hardcore fans might be a little sore that there's nothing new and exclusive to the set, but with over 26 hours of bonus features already on-board, most fans should find it to be just fine. Or, maybe they're holding back some specials just for one last DVD and Blu-ray dip to come once The Hobbit is alive and kicking. Only time will tell.

Now, feel free to go back to staring at the calendar, waiting for your pre-ordered Star Wars Blu-ray box to arrive.
WHERE TECHNOLOGY BECOMES ENTERTAINMENT