London Startup to Launch Voice-Powered Board Game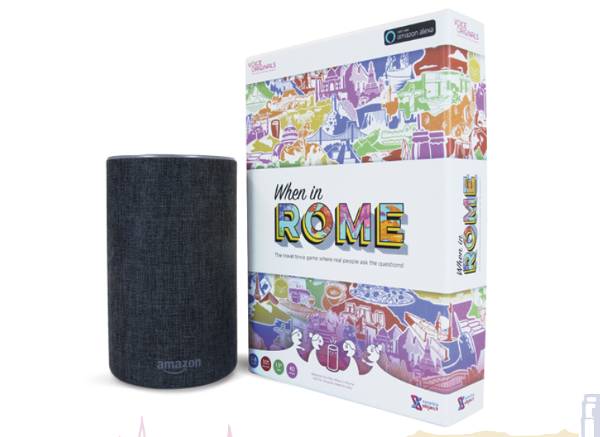 London-based startup Sensible Object has announced the "world's first" voice-augmented board game.
When in Rome, a travel trivia game designed to be used with Amazon Alexa-enabled devices, hits Amazon on Monday (July 2) and will be made available for Google Assistant-enabled devices in early 2019, according to a report in VentureBeat.
When In Rome features the voices of real people from around the world as Alexa plays host and pilot, transporting players to different cities across the world map on the game board. Here's how the developer describes the game:
With 20 cities to visit and a friendly local asking questions about their city from categories including slang and language, food and drink and random and strange, your Amazon Alexa device steers you through the game as you and your team mates compete to make new friends, earn upgrade cards and collect souvenirs in each new city you land in.

"The combination of beautiful components, real locals, emergent game play and Alexa playing host makes Voice Originals When In Rome an unforgettable board game experience."
To play the game, you need the
When in Rome
board game and an Alexa-enabled device such as an Echo smart speaker with the When In Rome Skill activated.
Unlike a traditional, static board game, Rome will be constantly updated and improved to keep the experience fresh. In an interview with VentureBeat, Sensible Object CEO Alex Fleetwood said a new package of characters and content geared toward adult night life will be available for download later this year.
Here's how the company explains its mission: "Technology shouldn't divide us. It should bring us together, and improve our quality of life. Our goal is to take everything that's inspiring and entertaining about digital play, and to merge it with a design approach that's rooted in a practical understanding of home and family life. Our games are unique, combining physical, digital and imaginative play like never before."
Sensible Object raised $3.2 million to fund the project. One of the backers was Amazon's $200 million Alexa Fund, which supports startups that develop products and services that work within the Alexa ecosystem.
For more information, visit sensibleobject.com.