From London to Austin: MQA Live Debuts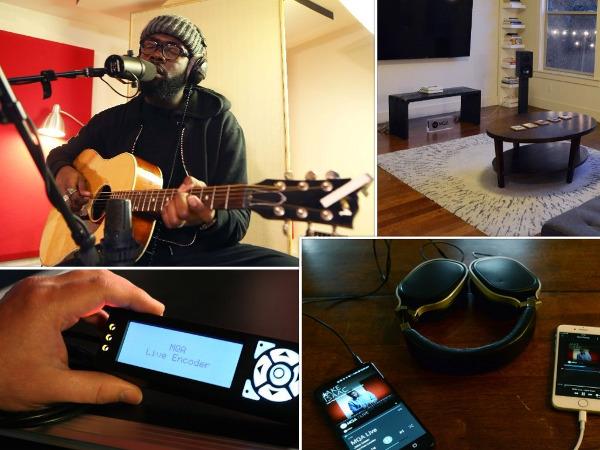 London-based MQA Ltd. launched a live streaming version of its MQA audio encoding technology at simultaneous events held yesterday in London and Austin, Texas.
A live performance featuring singer/songwriter Jake Isaac and his band performing at London's Rocket Studios was streamed in real time using MQA Live technology and heard by a small group of people in an Austin home. Invited guests listened to the performance on a variety of devices, including wireless speakers, headphones, laptops, media streamers, and a smartphone equipped with an outboard AudioQuest Dragonfly digital-to-analog converter (DAC).
MQA Live is intended to provide a way for music fans to experience live studio quality sound from their favorite artists, whenever and wherever they are performing, according to event organizers.
"MQA Live offers fans the authenticated sound direct from the venue so it can fit conveniently into their everyday lifestyle, wherever they are and however they chose to listen," explained Mike Jbara, CEO of MQA Ltd. "The home environment in Austin…[allowed] those in attendance to imagine a new age of social and appointment listening."
"I feel really lucky to have been part of the first MQA Live experience," Isaac said. "After the performance, the MQA team played the recording of the live stream back for me and I was blown away with how powerful it felt."
MQA, short for Master Quality Authenticated, is the brainchild of digital-audio pioneer and Meridian founder Bob Stuart, who refers to the technology as a kind of "audio origami" that folds hi-res audio into files small enough to stream or download. The technology delivers "master quality audio" in resolutions up to 24-bit/192-kHz and is currently available on the music streaming service Tidal as well as on several music-download services.
An extension of MQA, MQA Live is an audio-streaming tool with a real-time encoder that connects to the audio system at the performance location and streams MQA-encoded music to the delivery platform chosen by promoters and venue owners. Production costs are low because the encoder is the only additional piece of equipment required to stream a performance. Although MQA-encoded music can be played back on any device, the best sound quality is achieved using an MQA-enabled device to "unfold" the MQA-encoded file.
MQA Live streams don't include video but recent research shows that 95 percent of YouTube/Vevo users listen to music without watching the video (MIDiA Research) and 87 percent listen to music on the radio (IFPI: Connecting With Music).
For more information on MQA technology, visit mqa.co.uk.
Related: