Logitech Harmony One Universal Remote Setup & Performance
Setup & Performance
The Harmony One uses a rechargeable lithium-ion battery and comes with a charging cradle. The cradle has a
very
bright LED that lights up when you plug in the AC power, though it doesn't indicate whether the remote's battery is fully charged or not. Thankfully, there's a switch on the cradle that lets you dim or disable the light.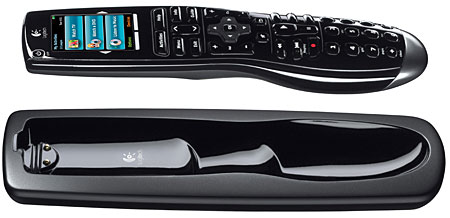 After charging the battery, it was time to configure the One for my system. I wanted to set up three activities—Watch Satellite, Watch TiVo, and Watch a Disc—using a Dish Network ViP722 DVR, TiVo Series3 DVR, and Samsung BD-UP5000 Blu-ray/HD DVD player, respectively. However, after telling the system that I had these three devices, it automatically set up only two activities; for some reason, it did not set up an activity with the Dish DVR. The system lets you manually add activities, which I did for the satellite receiver.
During that manual setup, the system asked which input the Dish DVR should be set to—SD, S-video, or "Source input is missing." I don't know what SD means, but it seemed like the best of the three options, and, in fact, it worked just fine. Still, one of the options should be labeled "Tuner."
Once I set up the three activities, it was time to test the remote. Everything seemed to work as expected except the Watch a Disc activity, which caused the Epson PowerLite Pro Cinema 1080 projector to switch to its PC input instead of HDMI as I specified. I tried to "teach" the Epson's HDMI input command to the One, but selecting that activity still switched the projector to its PC input.
The next step was to call tech support, where I was placed on hold for half an hour listening to the same pop-drivel song over and over. Angela finally came on the line and solved the problem—she instructed me to "teach" the HDMI input code as a New Command and assign it to the HDMI input command, and it worked!
Once I had the remote configured just as I wanted, it operated flawlessly. It's IR beam is wide enough that it reliably reached the equipment on the side of my home-theater room as well as the screen at the front, and it was powerful enough to reflect off the screen to the projector at the back of the room.