Logitech Harmony One Universal Remote Conclusion
Conclusion
I've been using a Harmony 676 for several years, so the One's layout took a bit of getting used to—habits are hard to break. I stuck with the 676 even after the 880 and 890 came out because I don't like their button layouts. Also, many of their buttons are flush against each other, making them difficult to find by feel, and others are located in a thin oval around the LCD display, which is too clever for its own good. The One's layout is different from the 676's, but it's much better than the 880/890's, so I took the time to learn it.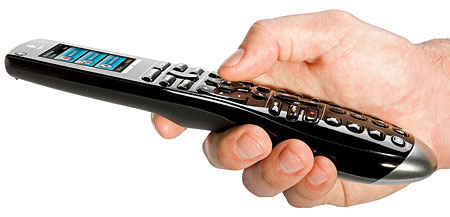 The only thing missing from the One is RF (radio-frequency) capability. Despite its wide IR beam, the remote must still be pointed more or less at the equipment it's controlling with no obstructions. RF would allow it to be pointed in any direction or even be used from a different room. However, this would undoubtedly increase its price.
In my long experience with Harmony remotes, I've always been impressed with the company's phone support, and this instance is no exception. My only complaint in this case is that it took so long to get a real, live person on the line. I suppose it could have been the luck of the draw, but I've always reached someone much quicker in the past.
The Harmony One is by far the best remote Logitech has ever produced. At $250, it might seem expensive, but how much is the ability to easily control your entire system worth? I'd say it's priceless.
Highs
Online configuration much easier than programming most universal remotes
Physical buttons beat touchscreen-based remotes hands down
Superb button layout
Feels great in the hand
Excellent customer support
Lots of customizing options
Lows
No RF capability