Liquidation madness: Did Circuit City sell off its ability to use math?
It's now been over a month since Circuit City began its liquidation. We've covered the liquidation to death; you probably won't get any real deal at these stores unless you're both canny and lucky. They jack up prices to MSRP, then start shaving off the percents, all in the name of the liquidation. That isn't news.
However, when they're failing to even deliver the on the 30%-off-MSRP price they promise, because they assume people can't use math? That's a bit of news.
I stopped by a nearby Circuit City last week to see how the sale was going. The 15%-to-30% signs have long since been upgraded to 30%-to-60%-off signs, but good luck finding anything useful for more than 40% off in the store. The front of the store had several stacks of brown boxes full of Onky, Pioneer, and other home theater equipment, all claiming to be 30% off. The actual prices they quoted told a different story.
This Onkyo TX-8555 stereo receiver was priced at $229.99. That's about the MSRP for it, but you can get it for $210 or lower if you shop around. After the "30% discount," the final price was $209.99. For those of you who aren't math-savvy, that's completely wrong. 30% off of the $230 receiver should be a little over $160. That $210 price tag is less than 10% off.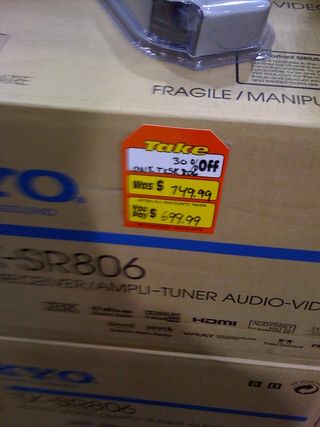 The Onkyo TX-SR806 receiver was even more egregious. MSRP at $749.99 (but you can get it for less than $650 if you shop around), it was touted as costing $699.99 after 30% off. The price it should have been after that discount: $525.
Some more Onkyo equipment that was woefully mispriced: A TX-SR506 (around $230, you can find it for just over $210) given the false 30% discount for a final price of $220, not the $165 the discount called for), a Pioneer VSX-518 priced at $157 and shaved down to $147, and an Onkyo TX-8255 . . . well, actually given a decent discount, from $225 to $146 (a few bucks lower than most online retails are selling it for). So at least there was one item that could possibly be seen as a deal.
I don't expect these liquidation sales to produce particularly good deals, but at the very least, I expect them to be somewhat accurate and honest in their pricing. In fairness, this was one store, and isn't necessarily indicative of the entire liquidation. According to most people I've spoken to who have stepped into a Circuit City in the last few weeks, however, it's not particularly surprising, nor does it seem uncommon..
— Will Greenwald
LATEST VIDEO