Life on Mars: Combo DVD Review Page 2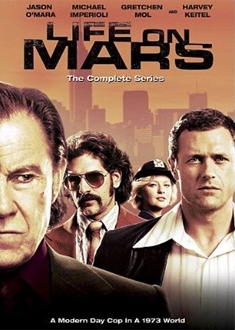 (Acorn Media)
---
The Complete Series (U.S.) Series •••• Picture •••• Sound •••• Extras ••••
The New York City of 1973 is quite faithfully rendered, and clothing detail is spot-on; witness the weathered crackling on the sweet brown leather jacket worn by this Sam Tyler (Jason O'Mara). I also liked the transition from the dash-mounted old-school white iPod playing David Bowie's "Life on Mars" to the dash-jutting red, RCA-labeled Hunky Dory 8-track at the outset of Sam's time-period transition in Episode 1. And, of course, the subsequent record-shop discussion about sound quality of the future between Sam and Annie (Gretchen Mol) - though somebody should tell Sam that there's a vinyl revolution going on, so there's hope yet….
The Dolby Digital 5.1 mix is well done, whether inside the bustling precinct or out on the mean streets. One of the best moments comes with the subtle shift from the front-channels-plus-subwoofer placement of Annie's heartbeat to the all-channel whoosh of swirling wind toward the end of Episode 16.
The extras are quite good, with a pair of first- and last-ep commentaries bookending the proceedings. "Sunrise to Sunset with Jason O'Mara" follows a typically full on-set day with the show's lead actor, who evinces good humor throughout it all. O'Mara also exhibits the proper sense of wonder when he escorts Lee Majors, himself a '70s icon (that would be for The Six Million Dollar Man, folks), through the 125th Precinct's set during the "Flashback" extra. Finally, brief sidebar to those who prepare bloopers reels - why do they always have to be edited down into all-too-brief vintage-MTV-style quick cuts? We buy these collections to put in the extra time with them, so I say let 'em ride. We want it all, dig?
Overall, the British Life on Mars will go down as a note-perfect series that knew exactly when to hang up its badge, and the U.S. version will be seen as a worthy, but not equal, companion. Both are worth the time investment.
LATEST VIDEO