LG TVs Get Movies Anywhere App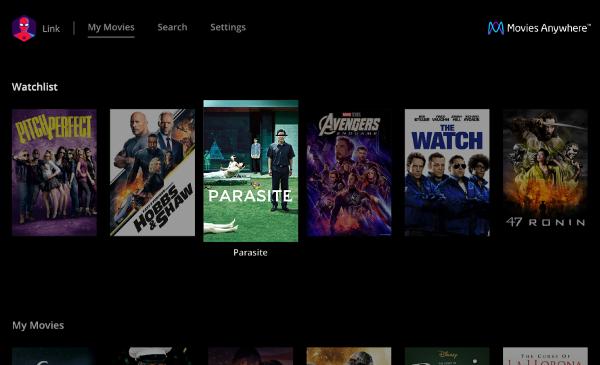 LG today announced the availability of the Movies Anywhere app on LG smart TVs built from 2017 onward and running version 3.5 or higher of its webOS platform.
The free app supports 7,900 new releases and classic movies from Sony, Warner Bros., Universal (including Dreamworks and Illumination Entertainment), and Disney (including Pixar, Twentieth Century Studios, Marvel Studios and Lucasfilm) and makes it possible to create a personal movie library "in seconds" across eight platforms: Apple TV, Amazon Prime Video, Vudu/Walmart, Xfinity, Google Play/YouTube, Microsoft Movies & TV, FandangoNOW, and Verizon Fios TV.
Movies Anywhere is not a streaming service but essentially a clearing house/aggregator that makes it easy to access movies in its library that have been purchased on partner platforms or redeemed via digital codes on DVDs and Blu-ray Discs. You can also buy movies through the app, which offers daily deals and lists new releases and popular movies available in 4K Ultra HD and in different genres.
In addition to 4K content with high dynamic range (HDR), including Dolby Vision, the app supports Dolby Atmos surround sound and bonus content. Movies Anywhere supports streaming and downloading on popular browsers and a number of devices, including iOS, Android, Apple TV, Roku, Kindle Fire, Amazon Fire TV, and Chromecast. Features include the ability to create separate profiles within the app, build a Wishlist, and create a Watchlist for later viewing.
Movies Anywhere recently introduced the Screen Pass feature (now in beta) that makes it possible to send a pass to a friend or family member that allows them to watch eligible movies for a limited time.
For more on Movies Anywhere, visit moviesanywhere.com. For information on LG, visit lg.com.