LG Takes OLED On The Road with Cinema House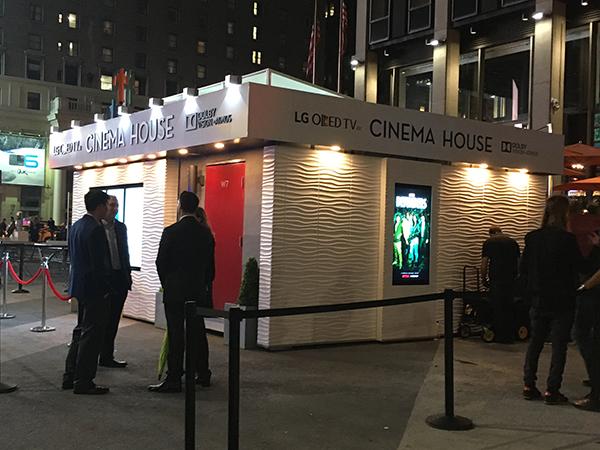 Not content to let consumers come to OLED, LG Electronics is now taking OLED straight to the public in an impressive new traveling demo experience. Dubbed the "LG OLED TV Cinema House powered by Dolby," LG's portable theater kiosk features a spartan demo room inside that comes to life with the assistance of a 77-inch sample of LG's Signature W7 "wallpaper" OLED TV, it's accompanying Dolby Atmos soundbar, and a half-dozen projectors that together turn the four walls of the approximately 10 x 20-feet viewing space into a visually and sonically immersive cocoon.
The launch of the Cinema House coincides with LG's new "Serious Watcher" marketing campaign in which the company is targeting OLED at the most hardcore TV fans and binge watchers wrought by our new age of on-demand programming. A survey done by the company and released just a few days ago titled the "LG OLED Serious Watcher Index" found, among other things, that 36 percent of American parents have cut short a family trip just to get home in time to watch a favorite show, 37 percent of parents admit to missing one of their kid's events so they could stay home to watch TV, and 31 percent of people would actually break up their relationship with a partner or signficant other if they deliberately spoiled the ending of their favorite show.
In keeping with the Serious Watcher theme, LG has partnered with Netflix to package the initial demo content for the Cinema House, which includes Dolby Vision- and Dolby Atmos-enabled Ultra HD clips from original Netflix series including Okja, Marvel's The Defenders, and the new season of the popular hit Stranger Things. Those who attend the demo between now and the Stranger Things 2 premiere on October 27 will be viewing a not-yet-released sneak peek from the first episode.
The Cinema House pop-up kiosk was created for the brand by its creative agency BFG in conjunction with Igloo Vision, a UK-based firm that specializes in 360-degree immersive audio/video experiences, typically delivered in a traveling dome environment. The more conventionally rectangular Cinema House uses six ceiling mounted projectors to throw imagery onto the white-washed walls to complement the onscreen action. For example, in the brief promotional demo that starts the experience, crashing waves on screen are suddenly made to extend beyond the screen and give the illusion of filling the theater space. The entire portable theater breaks down into two large sections that fit inside standard shipping containers and travel via flatbed and a box truck to the next location.
LG has scheduled a total of five stops for the Cinema House in 2017 as shown below. 2018 dates will be announced.
New York, NY: Plaza33 on 33rd Street near Madison Square Garden, October 11-12
Los Angeles, CA: Dolby Theater at Hollywood & Highland, October 19-20
Lawndale, CA: Video and Audio Center, October 28-29
Glenview, IL: Abt Electronics, Nov 11-12
Bellmore, NY: P.C. Richard & Son, Nov 18