LG Launches Portable 4K Laser Projector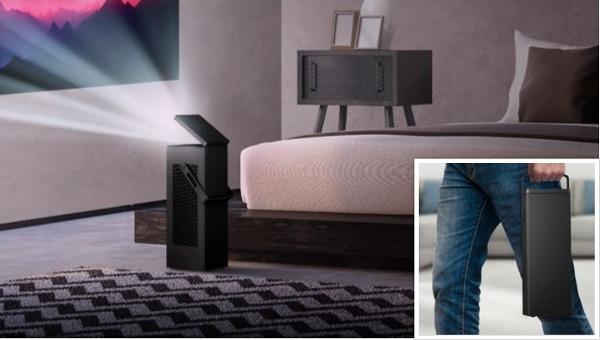 LG has announced that the CineBeam HU80KA portable 4K laser projector it
previewed in January at CES 2018
will start rolling out to "select retailers" this week.
The HU80KA, a DLP projector with a native resolution of 3840 x 2160, will sell for $3,000 and owes its unique upright design and compact size to a mirrorless I-shaped engine, which uses a flip-up mirror reflector to project images up to 12.5 feet (diagonal) whether the projector is sitting on the floor, mounted on the wall, or hanging from the ceiling, according to LG.
Shaped like a mini tower, the projector weighs less than 15 pounds and is 18.5 inches tall and only 6.5 inches across (width and depth) with a carrying handle and retractable power cord in its base to facilitate quick setups almost anywhere. The projector comes with LG's Magic Remote control and draws on its digital TV tuner and LG's webOS smart TV platform for content, including access to streaming services such as Netflix, Hulu, and YouTube. A "screen share" feature also enables viewers to share content from a compatible smartphone or tablet via Wi-Fi.
The CineBeam is equipped with a 1.2X zoom, auto keystone correction and supports high-dynamic range (HDR10) content and HDCP 2.2 copy protection via two HDMI connectors. It also has two USB ports, analog and optical audio outputs, and boasts a built-in 14-watt stereo speaker sound system, which LG says negates the need for external speakers or a soundbar.
Its laser lamp is rated for up to 20,000 hours. Tech specs include up to 2,500 lumens of brightness and a contrast ratio of 150,000:1. LG's TruMotion technology is said to effectively increase the projector's refresh rate for smoother images and reduced motion blur.
In a press release LG said: "Projectors that support 4K have traditionally tended to be heavy, expensive and difficult to install at home. LG's engineers and designers took on the challenge of downsizing the LG CineBeam 4K Laser Projector without sacrificing image quality. The result is a premium device half the size of most competing 4K projectors while remaining price competitive…allowing any room in the house to turn into a movie theater."
For more information, visit lg.com.