CES 2018: A Preview of the Ultimate Tech-Fest
That latest iteration of the annual tech-fest known as
CES 2018
runs January 9 through 12 this year, and
Sound & Vision
will, as per our usual, be there ready and (sometimes) willing to submit ourselves to the crushing crowds, the interminable cab (or Uber) rides, and the fawning, totally (I'm sure) sincere adoration of the PR people swimming like the fiercest of hungry sharks searching for fresh coverage. We encourage you—no, as one horribly translated press release I received last week said—we "expect you to show up" and check out our regular CES 2018 blog posts fresh from the billions of square feet of convention space spread out as far as your feet can carry you in Las Vegas, Nevada. Here's a sneak peek at some of the technological gems we expect to find…
If the avalanche of press releases is anywhere near a good barometer of the things awaiting us at CES 2018, Virtual Reality (VR) and Augmented Reality (AR) will be everywhere, as will robotics and Artificial Intelligence (AI) technologies. While it's true that over the past 50+ years, CES has always been about technology, this year it seems that the technology being highlighted is technology that either will eventually take people to realities beyond the one we all live in and/or replace an impressive-but-frightening number of human capabilities. When we start seeing Virtual Reality technology for robots with Artificial Intelligence, we'll know the gig is up for us all…
Along more traditional technological lines for S&V readers, there'll be some exciting TV news to report. LG, for example, will be showing the HU80KA projector, company's first 4K UHD model "designed to deliver ultra-sharp video in a compact, beautiful design that is sure to enhance the home cinema experience." LG is also announcing a couple of technologies that will be available in the company's newest smart TV lineup (including LG OLED and LG Super UHD TVs): ThinQ artificial intelligence (AI) and an advanced image processor called "α (Alpha) 9".
"ThinQ allows the implementation of hundreds of voice requests utilizing the company's own open smart platform as well as third-party AI services." LG's ThinQ TVs "also function as smart home hubs, offering access to other smart home products such as robotic vacuum cleaners, air conditioners, air purifiers, smart lights, smart speakers and many other connected devices."
Regarding the α (Alpha) 9, LG says, "A core innovative element of the α (Alpha) 9 is the four-step process of noise reduction, which boasts twice as many steps compared to conventional techniques. This algorithm allows for greater finesse in noise reduction, improving the clarity of images affected by distracting artifacts and enabling more effective rendering of smooth gradations. The processor also improves other aspects of the image such as sharpness, contrast and color." The "biggest" display news from CES 2018, of course, will be all the talk about LG's other introduction: an 88-inch 8K OLED display.
The audio category will have its own newsy noisemakers. Sound United, the parent company of both Polk Audio and Definitive Technology is expected to introduce a variety of new products "for advanced home theater, automotive and marine Listening." High-resolution audio will get its chance to be heard at CES 2018, too. According to Hi-Res music-supporting Bluesound, "All the major music labels and leading technology companies including MQA support this year's Hi-Res Audio Pavilion and Stream the Studio initiative. This includes 12 premium consumer electronics brands, a leading automotive OEM who will be displaying a hi-res audio system, two companies with hi-res capable mobile devices, music streaming and digital service providers, and a studio stage for live presentations and interviews."
Qobuz, "the highest resolution music streaming service in the world, providing users with the most in-depth and interactive music experience possible," will announce plans to begin streaming its hi-res service to customers in the United States beginning in mid-2018. Noise-canceling technology will actually make noise with new introductions from Audio-Technica, Sennheiser, beyerdynamic, and Cleer. Morel will be showing its newest, super-slim in-wall speakers that are supposed to be highly dynamic with high-power handing capabilities.
No one will be able to miss the Smart Home tech on display at CES 2018, including some interesting products from companies such as Athom, which will demonstrate its Homey hub that claims to work with over 20,000 devices and has an incredibly intuitive browser-based programming process. Somfy will be talking about the company's new Alexa-enabled motorized window treatments. Cybersecurity will be the main topic at Cujo's booth. Perhaps the most unnerving thing to be brought to life at CES 2018 is the Somnox "sleep robot" (pictured above). If the words "sleep" and "robot" together in the same sentence don't make you feel a little uneasy, here's what Somnox has to say about its product:
The Somnox sleep robot works by using scientifically proven cognitive and simulated human breathing techniques to accelerate the process of falling asleep. Its users snuggle Somnox and subconsciously replicate the breathing rhythm of the robot. Research has shown that breathing is essential to naturally reduce stress and increase relaxation. Additionally, the Somnox sleep robot provides users with audio. Soothing sounds such as heartbeats, lullabies and guided meditation are included in the accompanying app, which is available on both iPhone and Android smartphones.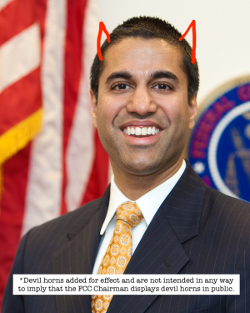 Of all the things—or, in this case, people—you'd expect to see at CES 2018, one of the most (not) surprising no-shows this year will be Ajit Pai, the Chairman of the United States Federal Communications Commission (FCC). Chairman Pai has earned notoriety of late due to his tie-breaking vote regarding the regulation (or non-regulation, as the case may be) of ISPs when it comes to the speed of downloads or access to content on the internet. (You can download a pdf of the full statement on the Declaratory Ruling—titled "Restoring Internet Freedom"—from the FCC here.
The former Verizon Associate General Counsel (2001-2003) believes—or at least claims to believe—that non-regulation of ISPs will help spur innovation and be good for consumers. While I think that view is a crock of you-know-what, his philosophy of so-called free-market economics and limited government may actually have been the core factor in his egregious vote (and the votes of two of his colleagues on the five-member FCC). On the other hand, it may have more to do with his chummy relationship with the big telecommunications companies and their interests. Regardless, Chairman Pai disregarded the input of millions of his fellow citizens (not to mention hundreds of small ISPs) who want to keep the regulations that will help guarantee net neutrality. What makes the Chairman's non-appearance at CES 2018 even more "in your face, America!" than it normally might be is the fact that Chairman Pai was previously scheduled to participate in a panel discussion at CES 2018. As the Consumer Technology Association (CTA) crowed in a press release on December 19:
White House Officials, Cabinet Secretary, Federal Chairmen and Congressional Leaders Join CES 2018 Innovation Policy Track
Arlington, VA – 12/19/2017 – The Consumer Technology Association (CTA) today announced that more than a dozen of federal government officials – including a cabinet secretary, White House officials, and every member of two federal commissions – will speak at CES® 2018. Among the policymakers delivering remarks or speaking on panels: Secretary of Transportation Elaine Chao, Federal Communications Commission (FCC) Chairman Ajit Pai…

"CES isn't just a can't-miss event for industry leaders, but also for government officials at the intersection of technology and public policy [emphasis mine]. It is truly a cross-sector phenomenon from which we all benefit," said Gary Shapiro, president and CEO, CTA. "The best tech policy discussions and solutions come when the government and the industry are working together. As technology becomes more intuitive, impactful and connected, it is critical to show policymakers how emerging and disruptive technologies make our world and our lives better."
Then, on Jan 3, 2018, the CTA released this very terse statement:
CES 2018 Update: FCC Chairman Pai Will Not Be Attending
Arlington, VA – January 3, 2018
The following quote is attributed to Gary Shapiro, president and CEO, Consumer Technology Association (CTA) – owner and producer of CES®:

"Unfortunately, Federal Communications Commission Chairman Ajit Pai is unable to attend CES 2018. We look forward to our next opportunity to host a technology policy discussion with him before a public audience."
Chairman Pai was supposed to be a speaker on the stage along with
Maureen K. Ohlhausen
, Acting Chairman of the Federal Trade Commission (
FTC
) and Gary Shapiro "for a candid conversation about the challenges they face" as their agencies navigate "the constantly evolving technological landscape." Evidently Chairman Pai has decided he doesn't want to discuss "the challenges" he faces—most notably the overwhelming disagreement with his agency's decision amongst the people he is supposed to be serving in his position on the Commission.
Unfortunately, there will be more than enough other gadgets and electronic baubles to keep the majority of the press (myself included) busy in the quest for clicks. I'm sure that Chairman Pai will be able to ride out the political storm safe in his governmental bunker.
[Sigh…] Regardless of your politics, remember to check back early and often during CES 2018 for the latest info on some of the coolest gear the Sound & Vision staff will sniff out over the next week.