LG Introduces Hi-Res/Atmos-Capable Soundbars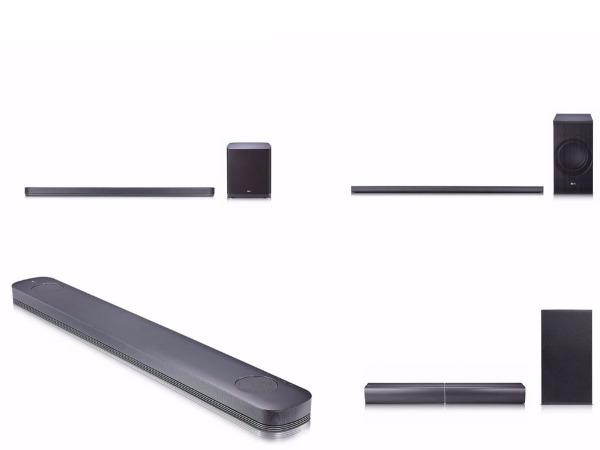 LG today introduced a line of upscale soundbar systems featuring Dolby Atmos surround sound and high-resolution audio capability.
The SJ9 ($700) supports the playback of 5.1.2-channel Dolby Atmos with five speakers, two of which fire up from the soundbar, and high-resolution audio (up to 192 kHz/24 bits) with upsampling to increase the apparent resolution of standard audio files to 192 kHz/24 bits. As with all three models in the new line, the SJ9 includes a wireless subwoofer.
Other highlights include 4K/HDCP 2.2 passthrough, Bluetooth streaming, multiroom connectivity via Wi-Fi, Chromecast functionality for streaming from apps on mobile devices, and direct access to Pandora, Google Music Play, iHeartRadio, TuneIn, Spotify, Rhapsody, and NPR.
Except for Dolby Atmos processing and the extra speakers, the 4.1-channel LG SJ8 ($450) offers the same features as the SJ9 in a super slim soundbar that's 1.5 inches tall and can be mounted directly mounted to LG's B7 and C7 OLED TVs using the optional Perfect Fit Kit.
The SJ7 Sound Bar Flex ($400) is a 4.1 system featuring a split-speaker design that can be used as a traditional soundbar with the speakers joined together or split between the front and back of a room with the rear module acting as a surround speaker. Uniquely, one of the two speaker halves has a built-in battery so it can be used anywhere as a wireless Bluetooth speaker for added flexibility.
For more information, visit lg.com.