LG CineBeam HU85LA 4K DLP Projector Review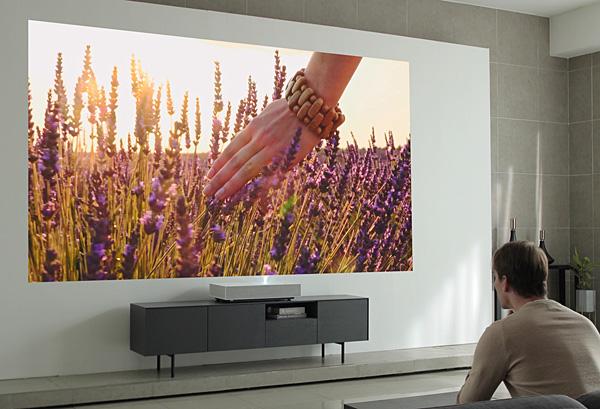 PRICE
$5,999
AT A GLANCE
Plus
Easy setup and installation
Excellent image clarity
Extensive calibration options for a projector
Minus
Low light output
Limited contrast performance
Middling HDR performance
THE VERDICT
LG's CineBeam HU85LA ultra-short-throw projector has high cool factor, but its limited light output and modest contrast will leave movie fans wanting.
If you're a home cinema nut like me, there's always one thing that makes or breaks the experience: screen size. For the last 15 years, I've owned a front projection system that beams images well over 100 inches diagonal, and once you have that at home, it's hard to turn back! Today's flat panel TVs provide truly extraordinary image quality, and although they keep getting bigger and bigger, models with a screen size above 90 inches remain prohibitively expensive. That creates a dilemma since not everyone can (or wants to) install a system with a projector mounted to the ceiling at the back of their room.
At this year's CEDIA Expo in Denver, Colorado, I encountered multiple projector manufacturers showing alternative solutions. The most popular of these was the ultra-short-throw (UST) projector, an ingenious device that packs the projection system into a compact cabinet that sits on top of a shelf (or even on your floor!) and beams images at an upward angle. This design allows the projector to sit nearly right against the wall and deliver images that are much larger than what you can expect from a typical flat-panel TV. For this review, I had the chance to look at the latest entry in this segment, LG's CineBeam HU85LA. Combining a three-laser light engine with DLP 4K XPR projection technology, the HU85LA beams images that range in size from 90-120 inches with one of the shortest throw ratios on the market. And at $5,999 retail, the price is dramatically less than what you'll pay for the largest high-end flat-panel LCD or OLED TVs.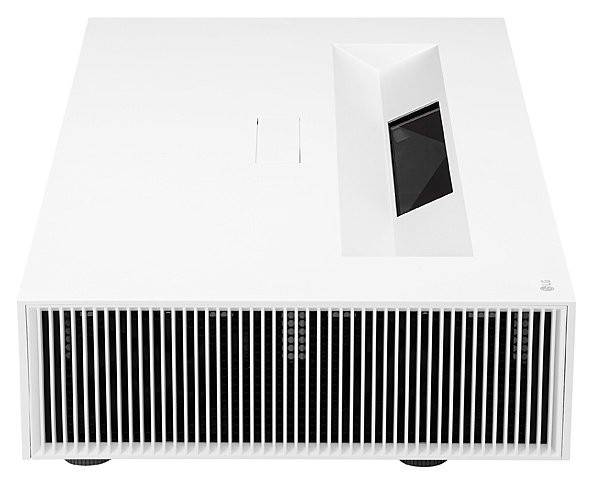 Off The Wall
The HU85LA is the first UST projector I've tested. Since my projection setup is in a dedicated, light-controlled home theater and USTs are designed for use in a more typical consumer's family room, I reached out to Screen Innovations, a leader in ambient light rejecting (ALR) screens. The company sent me its Zero Edge screen with Short Throw material in a 100-inch diagonal image size. This material is specifically designed to amplify light coming only from directly below the screen and eliminate as much light interference as possible from other directions. The screen does a fantastic job of boosting contrast in moderate to low ambient light conditions, and the Zero Edge design's vanishingly narrow bezel makes it look very similar to a flat panel. One downside I saw with the Short Throw material is its 0.6 gain, which theoretically chops off 40 percent of potential light output. That's common for any ALR screen, however, and is a necessary evil of the technology. Screen Innovations ups the cool factor by adding LED strip lighting along the back of the screen frame that provides a splash of light in different color hues on the surrounding wall, an effect that also helps to bias your eyes when the room is dark to provide more comfortable viewing and higher perceived contrast.
The HU85LA is housed in an attractive white case complete with a fabric front that hides a built-in speaker system. A small glass opening for the image to project through is located on the cabinet's top, along with a small door that conceals a focus adjustment. The back panel features two full-bandwidth HDMI 2.0b inputs, a digital TV antenna input, USB type-C and two USB type-B inputs, and an optical digital audio output. While I was surprised to see a TV tuner built into the projector, it certainly makes sense since the HU85LA can be used as a replacement for a flat-panel TV.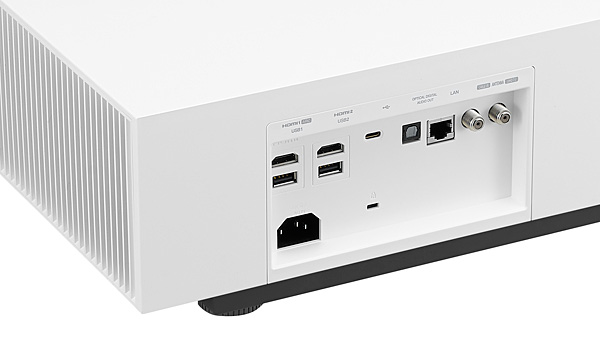 LG's three-laser light system includes two blue laser diodes (one with a filter to convert to green) and one red diode coupled to a 0.66-inch DLP DMD chip. This is the higher-resolution version of the two DLP XPR options, providing a native 2,716 x 1,528-pixel array that's converted to 4K by an optical actuator in the light path. (Unlike other "shifting" image technologies, these are called true 4K because each pixel is individually addressable, though the pixels have to overlap unlike with a true pixel-perfect 4K imaging device.) Regardless, the XPR solution provides an extremely sharp image that is nearly impossible to distinguish from native 4K projectors on the market. Since the HU85LA uses separate lasers for each primary color, it has none of the color separation "rainbow" artifacts typically seen with single-chip DLP projectors. I did note an occasional color artifact with high motion images, but overall found it to be a non-issue.
The HU85LA's image size is determined by how far away it's placed from the projection surface. With a throw ratio of 0.19—one of the shortest on the market—LG's projector can beam a 90-inch diagonal image when placed just two inches from a screen, and a 120-inch image at around seven inches. To align image geometry, you twist the cabinet from left to right, though you still may see some minor geometric distortion depending on the surface you place the projector on, or how plumb the wall is with your screen. LG allows for further adjustment using "warping," a feature that gives you the ability to dial in up to 12 points of edge correction using a handy onscreen display. This process applies some scaling to the image, but I found that the benefits of getting proper geometry outweighed the cons of scaling artifacts, which were minimal.
LG's onscreen interface should be very familiar to anyone who has experience with one of its flat-panel TVs. I have an LG OLED set in my family room with a nearly identical "webOS" interface, so setup was straightforward. The "Magic" remote control that comes with the HU85LA is also similar to the ones supplied with the company's TVs. This allows you to navigate onscreen menus using either directional arrows, or an onscreen "wand" with a floating arrow.