LG CineBeam HU85LA 4K DLP Projector Review Page 2
With the projector connected to your wireless or wired home network, LG offers a multitude of streaming applications, including standard ones like Netflix, Amazon Prime Video, Google Play, and YouTube. There's an app store with more options, along with a web browser, picture viewer, and even a game store. There's also a wide variety of streaming "LG Channels" offering a range of content that can be blended with any over-the-air broadcast channels you receive with the projector connected to a DTV antenna.
Calibration was straightforward. I used the Expert (Bright Room) for viewing HD/SDR content and Cinema User for Ultra HD/HDR. Each input on the HU85LA can use a different picture mode and settings, or you can copy over adjustments made in one mode so that other inputs use the same settings. I was delighted to see that LG offers a multi-point adjustment for grayscale calibration, a feature commonly found on flat-panel TVs that I find missing from even the most expensive front projectors. The HU85LA offers 2-, 10-, and 22-point options. Out of the box, the projector's grayscale/gamma accuracy wasn't too far off, though it definitely needed attention. Using the tools provided in the standard setup menus, I was able to dial in the grayscale/gamma to a respect- able peak delta-E of 1.2 with an average of 0.6 (a delta-E of 3 or less is considered imperceptible). While color point calibration options were more limited, my adjustments yielded a post- calibration maximum delta-E of 2.7 with an average of 1.5.
Performance
I had the chance to watch a wide assortment of content from the HU85LA's built-in apps and from a Panasonic UB9000 Ultra HD Blu-ray player during my time with the projector. This allowed me to evaluate its performance using a multitude of formats including standard SD TV, HD streaming and discs, and the latest Ultra HD/ HDR movies on Blu-ray and via external streaming devices.
The parameter I was the most concerned with when measuring the LG was peak light output. That's because when a mirror system is used for projection, more output is sacrificed compared with the traditional approach of shooting light straight at a screen. Also, you can expect a degree of light loss when hitting a screen at the extreme angle used by UST projectors. The HU85LA's peak light output measured 20 foot-lamberts (ft-L), which is quite low for any type of living room environment, even one with good light control. Although the SI screen helped image quality by filtering out ambient light coming from other directions, darker images still had a washed-out look.
As with other DLP-based projectors we've recently tested, contrast ratio was also limited, measuring 1,700:1— another factor that contributed to the projector's washed-out appearance with darker material. I watched a few episodes of the popular Netflix show, The Crown, which takes place in a seemingly always dreary London, as well as the action flick, Anna. In both cases, images tended toward the dark end of the spectrum, and the LG's modest contrast resulted in a flat appearance in anything but a totally darkened room. On the other hand, brighter content like sports, news, and animation looked consistently good. My wife was catching up on the latest season of The Great British Baking Show, and even in the middle of the day, the show looked quite good on the LG, with vibrant colors and impeccable detail.
When you have only 20 ft-L peak brightness to work with, HDR tone mapping becomes vitally important. LG's projector supports the HDR10 format and features "frame by frame" dynamic tone mapping, a first for projection technology. Frame by frame tone mapping provides the added benefit of adjusting the overall dynamic range of an image on the fly, resulting in darker content not looking quite as dark and mid-level highlights not being as truncated as they would be with the extra dynamic range padding used in a "static" tone map. This is especially impor-tant for projectors, which, due to having modest light output in comparison with flat-panel TVs, already have a limited amount of dynamic range to work with. One caveat with the LG is that there's no way to adjust dynamic tone mapping for a specific light output in the projector's setup menu. Given the range of different viewing environments that the HU85LA might be used in, tone mapping could be more effective if the projector's processor was provided with a maximum light output to map to.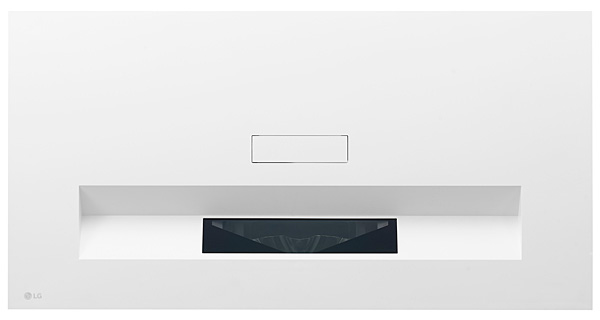 LG is no stranger when it comes to dynamic tone mapping as they use it in their OLED Ultra HDTVs as well. I viewed a multitude of HDR content during my evaluation of the projector and tone mapping artifacts were few and far between. What probably affected image quality more when it came to HDR viewing with the HU85LA was its limited light output and overall dynamic range (contrast performance). My new go-to disc for evaluating tone mapping performance is the 4K Ultra HD Benchmark Disc from Spears & Munsil. When viewing the disc's demonstration montage, The LG performed well throughout most of the segments, but clipping could be seen in some material and the projector's limited contrast made the more three-dimensional segments look flat. Watching the outdoor sequences on a difficult high-luminance disc like The Meg, I also noted occasional clipping in the clouds and even in skin tones, though the clipping was lessened when I selected my Panasonic UB9000 player's "basic luminance projector" HDR Optimizer setting, which also imparted a slightly punchier-looking HDR image.
One of the better-looking discs that I viewed was Disney's recent live-action adaption of Aladdin, a movie with a brighter overall image, along with fantastic detail and vibrant color. LG claims that the HU85LA can reach nearly 98 percent of the P3 color gamut, and my measurements confirmed performance was pretty close to that. Measurements in that gamut also showed that blue and red tracking weren't very linear, although this wasn't a factor in my subjective evaluation. I was glad to see that the LG's three-laser light engine delivered the wider gamut without using a dedicated color filter, so light output wasn't sacrificed for the wider gamut. This is an issue we frequently see with front projectors, even ones that use laser light engines.
For all my viewing, I used the projector's built-in speaker, which did an adequate job for casual viewing. While it wasn't home theater sound to rival a dedicated multi-channel setup, it was as impressive as any speakers I've heard on a flat-panel TV. A quasi "surround" mode did a good job of widening the soundstage, though I wouldn't go so far as to say I felt surrounded by sound. The LG does have both optical digital audio and HDMI-ARC outputs, so you can always forgo the built-in speakers and connect to an external audio system.
Conclusion
LG's HU85LA has a substantial cool factor, especially when paired with SI's awesome backlit Zero Edge/Short Throw screen. I think just about everyone who came over while I had it in my house was blown away by the idea of getting such a big image from a small device positioned just below the screen and next to the wall. To say it was a conversation starter is an understatement. But even though I loved the bigger image the LG provided compared with a typical flat-panel, I found that it didn't deliver enough light output to make a bold statement in a typical family room environment.
Even though I'm a believer in using a front projection system in a full light-controlled room for the optimum home cinema experience, I also realize that not everyone can make that happen in their living space. Ultimately, an ultra-short-throw projector like LG's HU85LA can help guide more people to a bigger-screen experience, but it will need to offer substantially higher light output and increased contrast to provide consistently satisfying pictures in any situation other than a darkened room. The HU85LA is worth a look, but consider its limitations, and the environment where you're going to install it, before pulling out your wallet!