LG Expands Free Streaming Service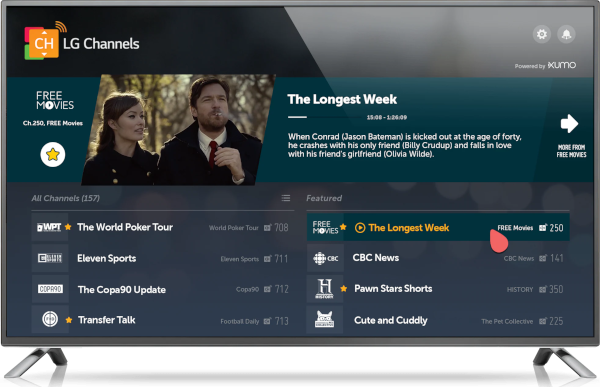 LG today announced an expansion of LG Channels, the free streaming service available to owners of LG smart TVs.
New programming debuting this month is led by the original culinary show, Majordomo TV with chef and restaurateur David Chang, which is an LG Channels exclusive. The first season of another LG Channels' original series, The Rivalries, is also now available through the channel's video-on-demand tab and includes "The Dutchman Shoes," a behind-the-scenes look at New York State's oldest college football rivalry.
Other newcomers include the NCAA Channel, the movies Ace Ventura: Pet Detective (1994), Looper (2012), About Last Night (1986), Angel Eyes (2001), Snatch (2000), and How Do You Know (2010) plus the offerings listed below. LG said some of the movies in the VOD catalog will be available for limited periods due to licensing windows but noted that new movies will be introduced every month.
• Cheddar News, featuring live news and original shows that explore the people, ideas, and innovations shaping the world
• Cinevault: 80s, highlighting movies from the big hair decade
• Cinevault: Classics, showcasing movies from the Golden Age of Hollywood
• Cinevault: Westerns, spotlighting the Old West in this classic, action-packed genre
• Fox Weather
• Game Show Central, featuring 11 game shows running the gamut from "Friend or Foe" and "Winsanity" to "Idiotest" and "Extreme Dodgeball"
• LiveNow, a nonstop stream of breaking news, live events and stories across the nation from Fox
For more information, visit lg.com.