LG 55LW5600 3D LCD HDTV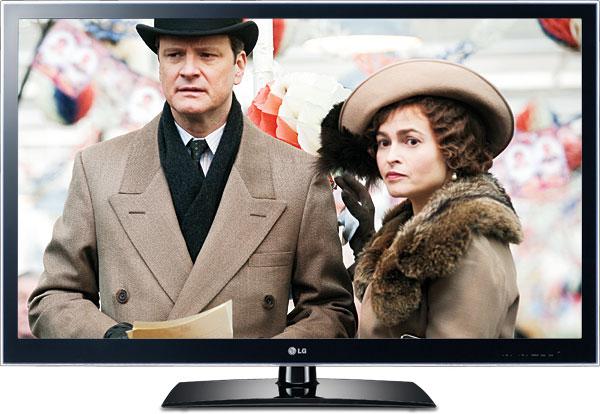 Price
: $2,400
At A Glance
: Crisp resolution and accurate color • 2-step and 10-step calibration controls • Bright, vivid 3D
Living on the Edge
So far, three manufacturers have released 3D HDTVs that use passive polarized glasses rather than active shutter glasses: VIZIO, Toshiba, and LG. All three use technology developed by LG. In our June issue, we took a close look at VIZIO's 65-inch entry, so this month, it's perhaps appropriate that we go straight to the source and dive into LG's first passive-glasses 3D HDTV.
LG's name for this technique is Cinema 3D. Left- and right-eye images flash on the screen simultaneously, rather than sequentially as with active glasses. The front layer of the screen, called a film-patterned retarder, circularly polarizes the left-eye image in one direction and the right-eye image in the other. Passive, polarized 3D glasses ensure that each eye receives only the images intended for it. (For a more in-depth discussion of passive 3D technology, see our VIZIO XVT3D650SV review in the June 2011 issue, along with our article "A Passive Approach," or find them at HomeTheater.com.)
Polarized
The major reported downside to the passive-glasses 3D technique is that it appears to reduce the vertical resolution by half. Every other horizontal line of pixels is used for one eye's image; the remaining lines are reserved for the other eye. The result is that, at any given moment, each eye sees only a 1,920-by-540 image, rather than a full 1,920 by 1,080.
But does this really reduce the vertical resolution? There's room for argument there. I found this purported loss nowhere near as visible as the numbers seem to suggest. I discuss one possible reason for this in the accompanying sidebar, "Eye to Eye."
Countering this theoretical loss of resolution, passive glasses do offer significant advantages: brighter 3D images, no 3D crosstalk (ghosting), insensitivity to head tilt (thanks to the circular polarization), a potentially wider horizontal viewing angle, and light, battery-free glasses that cost a fraction of the price of active designs. LG provides four pairs of glasses with this set. Extras will run you $25 for two pairs (compare that to around $100 to $150 per pair for most active glasses). Clip-on 3D glasses or even prescription 3D glasses may also become available for regular eyeglass wearers.
Details
The LG's inputs and outputs are clustered on the back of the chassis. Everything you might need is there, including four HDMI inputs plus two USB ports for viewing photos and videos (or listening to MP3 music) from an external USB storage device. A LAN terminal provides for a wired link to an Internet router or your home network, or you can go wireless with the LG Wi-Fi USB dongle (included but not reviewed here).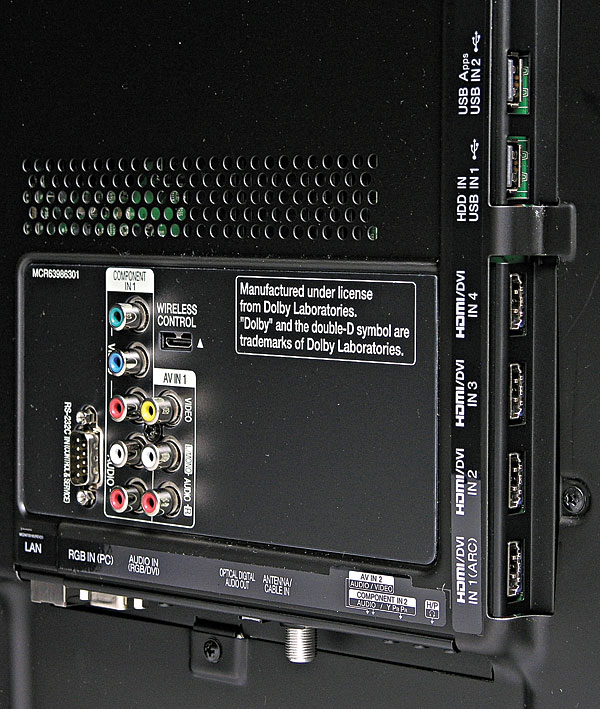 The detailed onscreen submenus are familiar from LG HDTVs of the recent past, but first you have to go through LG's redesigned Home menu. It's serviceable, but unfortunately, it opens up in a high-brightness mode that you can't dim. A separate Quick Menu offers immediate access to some frequently used features, but I found its utility limited (at least for 2D).
LG's Picture Wizard menu can assist you in setting the basic picture controls—Brightness, Contrast, Color, Tint, and Sharpness (horizontal and vertical). It's surprisingly accurate and a terrific feature I wish more set makers would consider adopting. An Energy Saving mode offers a variety of settings; I left it off. In its default Auto setting, I found the image to be very dim.
I ignored most of the seven picture modes and did all of my calibrations in the Expert 1 and Expert 2 modes. While you can lock both after calibration (after which their name changes to ISFccc), I left them unlocked to make subsequent tweaks easier. In addition to the Color Temperature control, with its Warm, Medium, and Cool settings, LG offers both two-point (high and low) and 10-point white balance controls. You can use the two- and 10-point adjustments together. Compared with using the 10-point controls alone, calibrators will find it far less tedious to dial in the gray scale with the two-point controls first, then refine it with the 10-point adjustments only where needed.