Leonard Cohen: I'm Your Man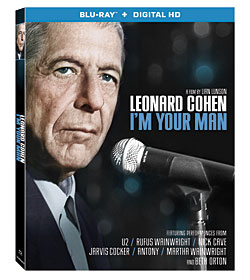 Live performances, shot mainly in intimate close-ups, have original concert lighting, creating shallow focus and limited detail and contrast. The better lit music video of Cohen and U2 is sharp and well con- trasted, with theatrically saturated colors and accurate skintones, the worn facial lines the poet has earned all available. Faded photos (many in his famous blue raincoat), black-and-white early footage of Cohen performing, and 8mm home-movie footage from his youth are as grainy and beautifully flawed as the man himself.
All songs are placed in the front channels, center for singer, front left and right for wall-of-sound organ, saxophones, trumpet, guitars, backing vocals, violins, and theremin—and it works. Surrounds are only used for occasional ambient music and effects. Voices are always clear with Cohen's rich, gravelly rumblings suitably resonant. Instrumentalists and background vocalists are equally full and bassy, if not always that separated.
A warm director's commentary by Lian Lunson fills in some background and explains the shooting. Four deleted performances are interesting but rightly excised, sadly "Famous Blue Raincoat" and "Bird on a Wire" being amongst them. In a short interview, Cohen tells of when he was "60 years old, just a kid with a crazy dream" and confesses that he felt he'd failed to nail "Bird on a Wire."
Blu-Ray
Studio: Lionsgate, 2005
Aspect Ratio: 1.78:1
Audio: DTS-HD Master Audio 5.1
Length: 103 mins.
MPAA Rating: PG-13
Director: Lian Lunson
Starring: Leonard Cohen, Nick Cave, Rufus and Martha Wainwright
The heart of I'm Your Man is a celebratory concert of the recently passed Leonard Cohen's songs performed by an oddball assortment of top talent at the Sydney Opera House. Between each number come interviews with performers telling of the inevitable life-changing moment of hearing Cohen for the first time. In addition, the poet/singer-songwriter/Jewish Zen Buddhist monk himself delivers anecdotes on personal history, his long, arduous working process, and meaning behind certain ballads illustrated and illuminated by archive poetry recitations, artwork, and photos and footage from childhood and career. We kick off with Cohen's recording of "Waiting for the Miracle" and later "I'm Your Man," but Nick Cave's lounge-crooner performance of the latter makes the song all his own—not surprisingly since Cave spent his career doing masterful variations on Cohen's style, persona, and storytelling. Other highlights that make you rethink the layered lyrics include the troubadour's deadpan fronting of U2 on "Tower of Song," Beth Orton's shimmering "Sisters of Mercy" rendition, and Rufus Wainwright's captivating camp Weimar Republic cabaret version of "Everybody Knows."