Leon Horizon 212 Speaker System
Price
: $5,385
At A Glance
: Ultra-thin bar for skinny flat panel display • Passive sub can fire forward or down • Sub amp offers lots of adjustability
Looking for Mr. Goodbar
There's one basic truth about home theater that I can never repeat often enough: It is the union of big-screen television and surround sound. They do not operate in isolation from each other. Instead, successive waves of video technology have affected the way people think about audio for video.
Analog direct-view CRT and rear-projection sets may have been big and bulky. It makes me shudder to remember the NTSC picture quality we lived with in those days. But at least tube-based displays didn't limit the scale or quality of the audio gear that complemented them. You could flank your butt-ugly CRT RPTV with tower speakers, drop a chunky center-channel speaker on top of it, and no one would take it amiss. In the second wave of video technology, flat panels took over. The result was greater interest in satellite/subwoofer sets, on-wall, in-wall, and soundbar speakers. Now the third wave of video technology—the ultra-flat display—has ushered in a new generation of ultra-thin soundbars and flanking speakers.
This may be cause for concern. How thin can you make a speaker before it ceases to perform at a level that would truly complement the eye-popping brilliance of today's best plasmas or LED-backlit LCD sets? And how small can you make a subwoofer before it begins woofing like a Chihuahua?
The Leon Speaker Corporation, aka Leon Speakers, provides some fascinating answers to these questions with the Horizon 212 Ultra Thin speaker system. Perhaps you've already guessed that the UT in the model numbers stands for ultra-thin. These skinny products are ready to strut down the catwalk.
Meet Leon
Leon is based in Ann Arbor, Michigan. It was born in 1997 when Jeff Gordon and Noah Kaplan got together to "combine the aesthetics of design with the dynamics of high-fidelity audio," as their Website says. The company's speaker lines include the Horizon Series soundbars, with woofers from 2 to 6 inches; the Detail Series box speakers, all of which are monitor or satellite size; the on-wall Profile Series, LCRs with woofers from 2 to 6 inches; the in-wall Vault Series, with magnetically attached grilles in dozens of colors; the in-ceiling AXIS Series, with chunky 6- to 8-inch drivers in round enclosures; the flagship Seven Series, with enclosures of solid aluminum, adaptable to in-wall use; and the Aaros Series, with both active and passive subwoofers as well as an outboard amp to drive the latter.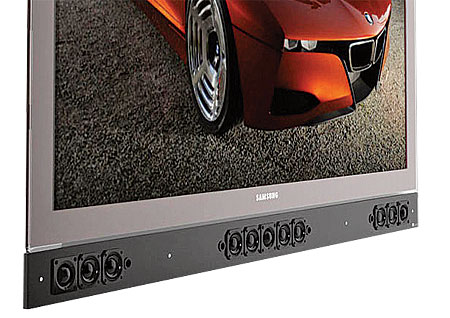 The company is willing to customize the height of Profile speakers to your video display's height. It's equally happy to tailor the width of the Horizon Series soundbar, including the one reviewed here, to your video display's width. Custom colors including wood veneers and various paints are available for the soundbar and satellite speakers in this review.
This system combines products from the Horizon, Detail, and Aaros Series. The set consists of one Horizon Hz212-UT threechannel soundbar speaker, the thinnest one Leon offers; two Detail Ds113 satellites for surround use; the Aaros A10-UT subwoofer; L3-1K outboard sub amp; and HZ-UMB universal undermount brackets ($200). If you'd prefer not to use box speakers for surrounds, you can substitute a pair of AXIS AX-61 in-ceiling speakers, with 6.5-inch woofers and pivoting tweeters that can be aimed.
The Horizon Hz212-UT soundbar earns its Ultra-Thin moniker with a height of 3.25 inches and a depth of just 1.5 inches. It's specifically designed to complement video displays of about that depth. Width is custom cut; our review sample was 52 inches, about the width of a 55-inch set. The enclosure isn't heavy. In fact, when I first laid hands on the carton it came in, I wondered if something was missing. What I found inside was an MDF soundbar with aluminum end caps and a magnetically attached grille that conceals three 1-inch cloth-dome tweeters and eight 2-inch aluminum-cone woofers. Four woofers are for the center channel, and there are two each for the left and right channels.