l'Avventura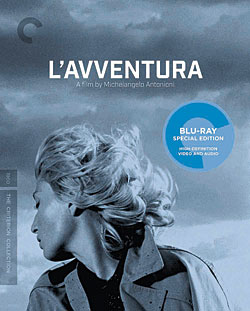 In Criterion's completely restored picture created in 4K resolution from the 35mm camera negative, contrast is excellent. There's a gorgeous array of grays, and even in black and white, everything looks exceedingly naturalistic and present, in lapping seas, rugged cliffs, and suntanned skin. The immensely in-depth compositions are clear and crisp, with great detail throughout. There's texture and a tactile quality to rocks, gravel, and weathered wooden doors, while water drops glisten. The film looks like it could have been shot today.
There's some slight hiss, but Giovanni Fusco's cha-cha-cha opening—signifying up-to-dateness (for 1960)— is clear, full, and crisp.
Amongst memorable extras, film historian Gene Youngblood's wonderfully analytical commentary cites how L'Avventura was so complex, it was booed at Cannes and then awarded a special jury prize for its new cinematic language. Two years later, it was judged by 100 critics to be third greatest film of all time. Youngblood also brilliantly dissects meaning inherent in each beautiful image. An in-depth, hour-long documentary on Antonioni narrates his life story and portrays his filmmaking career. An interview with director Olivier Assayas provides more thoughts on the evolutionary filmmaking, and Jack Nicholson (who starred in Antonioni's The Passenger) describes his experiences and reads essays by the director who refuses to explain the film.
Blu-Ray
Studio: Criterion Collection, 1960
Aspect Ratio: 1.85:1
Audio: Linear PCM 1.0
Length: 143 mins.
MPAA Rating: NR
Director: Michelangelo Antonioni
Starring: Monica Vitti, Gabriele Ferzetti, Lea Massari
A modernist masterpiece as revolutionary as Picasso's Demoiselles d'Avignon made in a time when film was important, L'Avventura tells the story—or anti-story—of a wealthy young woman on a boating trip who disappears off an island. After a search of the barren rock, her fiancé and best friend set off to find her, investigating sites where she's supposedly been seen. Over the course of their travels, they become involved and gradually forget about what they're searching for. L'Avventura is a whodunit without a who, a mystery without a solution, a dislocation of the already dislocated. In the process, director Michelangelo Antonioni peels away the skin of society as characters play at love without enthusiasm, sincerity, or context in ennui of unaware existential numbness. As in Blow Up and other Antonionis, L'Avventura is about absence—feelings are forgotten, meaning and purpose are misplaced, and "words are more and more pointless."