Klipsch Will Rock You with 'Bohemian Rhapsody' Sweepstakes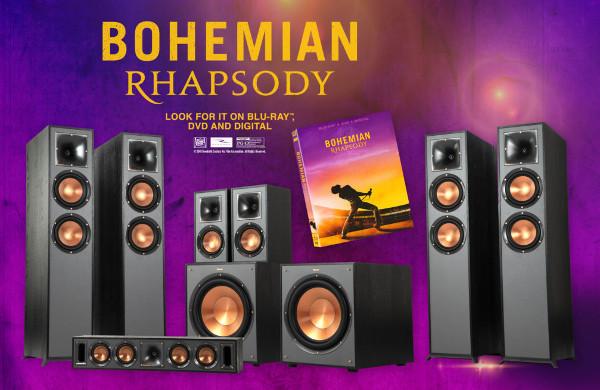 Klipsch will celebrate the recent digital release of
digital release of Bohemian Rhapsody
with a sweepstakes that kicks off Friday, February 1 and runs through March 31.
The "Klipsch Bohemian Rhapsody Sweepstakes" will offer the chance to win a full-blown Klipsch Reference 7.2.4 Dolby Atmos home theater speaker system, a copy of Bohemian Rhapsody on 4K/Ultra HD Blu-ray Disc, and an assortment of movie-related swag, including a luggage tag, baseball cap, T-shirt, USB thumb drive, and gold backpack. All told, the spoils are valued at $4,100.
Due out February 12, the 4K disc features the music of Queen in a concert-like setting thanks to its Dolby Atmos soundtrack.
Bohemian Rhapsody has pulled in more than $200 million at the box office since being released November 2, making it the eighth highest-grossing film of 2018 (worldwide) and the highest-grossing music biopic of all time. The film nabbed Golden Globe awards for Best Motion Picture (Drama) and Best Actor (Drama) and has garnered five Academy Award nominations for Best Picture, Best Actor in a Leading Role (for Rami Malek's portrayal of Queen singer Freddie Mercury), Achievement in Film Editing, Achievement in Sound Editing, and Achievement in Sound Mixing.
To register for the sweepstakes, visit klipsch.com/bohemian-rhapsody.