'Bohemian Rhapsody' Slated for Digital Release Jan. 22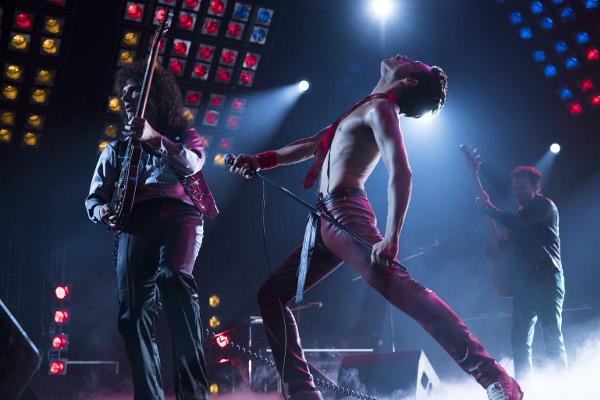 Twentieth Century Fox Home Entertainment today announced that
Bohemian Rhapsody
, the smash-hit biographical movie about the British rock band Queen and its flamboyant singer Freddie Mercury, is coming to digital on January 22 and 4K Blu-ray on February 12.
The film, which documents the rise of Queen and Mercury's role in the band's success, was one of the most celebrated bands in the 1970s, known for a unique style that injected elements of opera into the rock idiom.
Both the digital and disc releases will include a making-of short featuring interviews with the cast and original members of Queen as well as a 22-minute movie recreation of Queen's iconic 1985 Live Aid performance featuring two songs not performed in the movie, "Crazy Little Thing Called Love" and "We Will Rock You."
Taking full advantage of the film's hotter-than-hot status as the "number one music biopic of all time" — having earned nearly $200 million at the box office since November — Fox also announced a series of Rock Like Queen sing-along events across the country.
Fans in New York City (January 25), Austin (January 30), Las Vegas (February 5), and Los Angeles (February 12) will have a chance to hop aboard a double-decker Rock Like Queen Tour Bus and sing-along to iconic Queen songs like "We Will Rock You." To sign up, visit rocklikequeen.com. Space is available on a first come, first served basis.
The Rock Like Queen Tour will culminate in Los Angeles on February 12 with musical tributes to Freddie Mercury and Queen and a performance by Queen Extravaganza at Sunset Strip's legendary Whiskey A-Go-Go. Free tickets are available on a first come, first served basis at gofobo.com/getloudwithqueen.
Fans are encouraged to join #StompforQueen on social media and re-share the video found on official Bohemian Rhapsody channels (Facebook/Instagram @bohemianrhapsodymovie & Twitter @BoRhapMovie) or show their own "Stomp, Stomp, Clap" on any social platform. Twentieth Century Fox will select a "performance" to include in a tribute video its plans to launch in February.
The studio said it will make a $100,000 donation to the Mercury Phoenix Trust founded by Brian May and Roger Taylor to honor the memory of Freddie Mercury.
In one final piece of the promo puzzle, Amazon will release a new Alexa skill on January 22 that lets fans to join Freddie in singing "Ay-Oh" from Queen's famous Live Aid performance.