Klipsch Unveils Enhanced Reference Series Speakers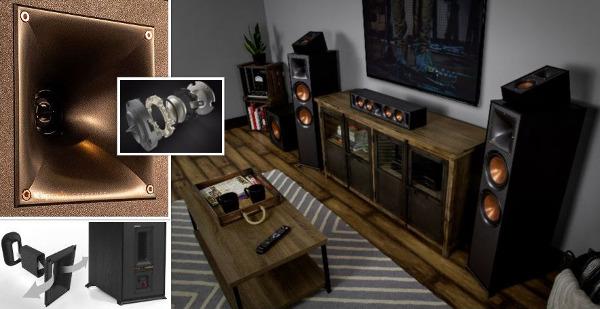 Klipsch has announced a round of updates for its popular Reference Series of speakers that it says improve sound quality and appearance.
All 13 models in the enhanced series, now in its sixth generation, feature a new, larger proprietary Tractrix horn for "improved coverage and bandwidth" as well as a new tweeter and phase plugs to "ensure greater accuracy."
Klipsch noted that rear Tractrix port has been redesigned to boost bass performance by improving airflow while reducing distortion and turbulence.
Cosmetic updates include angled feet, full-length low profile magnetic grilles, and a scratch-resistant black woodgrain vinyl finish — all of which complement the industrial-style fasteners and spun-copper woofer cones used to emphasize the series' signature design aesthetic.
The new Reference series comprises four floorstanding models, including the Dolby Atmos-enabled R-625FA, at prices ranging from $498/pair to $1,198/pair; the R-52C ($249) and R-34C ($349) center-channel speakers; four bookshelf models, including the R-41PM and R-51PM powered Bluetooth models, at prices ranging from $199/pair to $499/pair; the R-41SA Dolby Atmos elevation speaker module ($399/pair); and the R-120SW ($349) and R-100SW ($449) powered subwoofers.
For more information, visit klipsch.com.
Klipsch product manager Kerry Geist talks about the updated Reference Series:
Related:
Klipsch Reference Premiere RP-150M Speaker System Review
Klipsch Reference Theater Pack System Review