Klipsch R-10B Soundbar System Review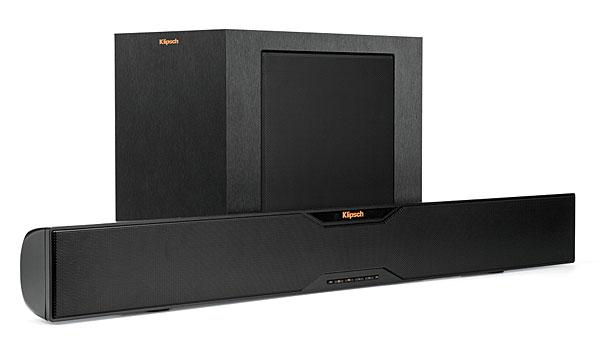 PRICE
$600
AT A GLANCE
Plus
Horn-loaded tweeters
Bluetooth with aptX
Wireless sub
Minus
No HDMI
Membrane remote
THE VERDICT
The Klipsch R-10B is a great-sounding 2.1-channel bar with a good-sounding sub, legacy connectivity, and Bluetooth.
After all this time, it still amazes me, as a speaker and receiver guy, that setup of an audio-for-video product can be as painless as it was with the Klipsch R-10B soundbar. I connected one optical digital cable and two power cables. The bar established diplomatic relations with its wireless subwoofer without any intervention on my part. Bluetooth pairing was just a matter of selecting the Klipsch as playback device in iTunes. This is the setup routine for people who hate setup routines.
Junior Klipsch
Klipsch's least expensive soundbar, the R-10B is a 2.1-channel model that comes in a sealed plastic enclosure 40 inches wide. The external subwoofer has a side-firing 8-inch driver in a fiberboard enclosure with a slot-shaped port. Both have perforated metal grilles. In the soundbar are two 0.75-inch textile dome tweeters and two 3-inch polypropylene coned woofers, the same driver array you'd find in a pair of two-way satellite speakers. But the 90 x 90-degree Tractrix horns surrounding the tweeters are what make this a distinctively Klipsch product.
Horn-loaded loudspeakers have been a specialty of Klipsch for more than a half-century. Why place a horn around a driver? Klipsch explains: "There are several benefits of horns besides increased output and efficiency. Horns reduce driver excursion for a given output level. The reduction in driver excursion also reduces harmonic distortion related to diaphragm modes, compliance asymmetry, and magnetic field asymmetry, as a few examples. The controlled directivity/dispersion reduces reflections from walls, ceiling, and floor, which means the sound will be more consistent in different listening rooms, more like what the acoustic engineer intended, and more like what the recording engineer heard in the sound room. The reduction in reflections can also increase intelligibility and clarity, important for watching TV and movies, and can reduce listener fatigue."
Klipsch also offers another active 2.1-channel model in its new lineup. At $799, the R-20B bar costs about $200 more than the R-10B. It is the same width and uses same-sized drivers, but it has an extra pair of midrange cones and a larger, 10-inch sub.
The R-10B has a rigorously simple appearance. The only controls on the front panel are volume up, volume down, mute, and source. There is a power button hidden out of the way beneath the control pad, but the soundbar and sub do automatically power on when you press any button; it will also turn on automatically when it senses a live signal at any source input. The small remote control duplicates the front-panel controls, adding buttons for power and 3D Surround, a simulated surround mode. This is a membrane remote, not my favorite kind; buttons with mechanical action offer better tactile response. However, the bar can learn the mute and volume up/down codes from your existing TV or set-top- box remote for day-to-day use. Two pinpoint indicators flank the front-panel buttons. A soundbar sits close to a TV screen, so I would have liked a dimming option, but in practice, the tiny indicators weren't as distracting as some. There is no numerical or bar display for volume, though one of the pinpoints flashes when volume is adjusted.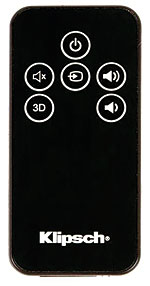 Keyholes are built into the bar for wall mounting. In addition to the brick power cable, supplied accessories include two rubber feet and an optical digital cable. Connectivity is limited to optical digital and stereo analog jacks, one each. Either can accept input from the TV, which would serve as the system's A/V switching device. You might need to turn off the TV speakers or activate the TV's optical output in the TV menu. There is no HDMI or other video connection.
Onboard surround decoding includes Dolby Digital (but not DTS), which might come via the TV tuner or apps on a smart TV. To use a Blu-ray or DVD player with a non-DD soundtrack, you can set the player to convert its optical output to PCM. The bar also supports Bluetooth wireless reception with the option of aptX compression for improved sound. Bluetooth doesn't require a home network connection, but getting the benefit of aptX does require an aptX-compliant source. The sub is also wireless, using the 2.4-gigahertz band; as noted, when I powered up the bar and sub, they immediately established a link.
Associated equipment included an Oppo BDP-83SE universal disc player. All movie demos were on Blu-ray Discs, with DTS-HD Master Audio soundtracks converted by the player to 2.1-channel PCM through its optical output. To use the bar's Dolby Digital processing, I also watched some DVD and BD material with the player outputting the Dolby Digital bitstream in either stereo or surround converted to 2.1.
Generously Warm
The R-10B was an intrinsically excellent-sounding bar with a generously warm midrange. The top end was slightly rolled off but not in a way that would starve frequencies that reproduce the human voice. Listening fatigue was never a problem. One of the bar's strengths was output. It could play reasonably loud for what is basically a pair of satellites in a box. The overall presentation was a bit lightweight, and the subwoofer didn't always dovetail perfectly with the 3-inch woofers in the bar. Some content made this more noticeable. However, this sub was a cut above the bloat boxes typically packaged with affordable soundbars.