Klipsch Gallery G-28/G-12 Speaker System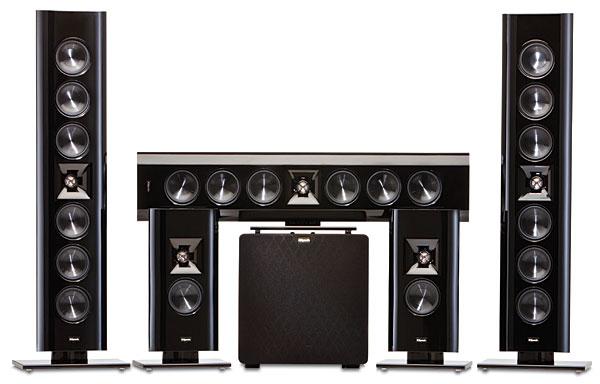 Price
: $2,745
At A Glance
: Horn-loaded tweeters • Shallow-depth enclosures • Clear, focused sound
Traditional home theater is the union of big-screen television and surround sound. I never tire of reiterating that statement—but I must admit, this is the first time I've qualified it with the term traditional. For many if not all consumers today, home theater is the union of flat-screen television and slimmed-down surround sound, with loudspeakers losing cabinet depth to complement the more compact form factor of LCD and plasma HDTVs. Don't get me wrong: I love my flat-panel HDTV, and the mere thought of going back to an unsightly direct-view or awkward rearprojection set makes me shudder. But the flattening trend that makes 21st-century HDTVs so much more appealing isn't a recipe for great sound.
When a speaker enclosure loses depth, so can the sound it produces. The overall volume of air inside an enclosure helps determine the limits of bass extension and gives even a plain-looking (but reasonably well-designed), more-sizable speaker a certain richness that's harder to achieve with a slimmeddown, smaller speaker. In-walls don't necessarily suffer from the same handicap because a back box, or in some cases the cavity inside the wall, can provide the necessary bass-enriching real estate. Life is tougher for a speaker that lives on or close to the wall adjacent to a flat-panel HDTV: There's no place for its enclosure to hide.
So what's a loudspeaker designer to do in this second decade of the 21st century? If he wants to stay in business, he needs to give décor-conscious consumers slim, good-looking, flat-panel-worthy products. But if he has both a good ear and a conscience, he wants those consumers to enjoy surround sound that produces as powerful an emotional effect as those 2 million pixels on the screen. This is the challenge Klipsch faced when it designed the oh-so-hip-looking Gallery speaker line.
Passive, Not Aggressive
The bass-enhancing solution Klipsch came up with hinges on the use of passive radiators. Take a look at the Gallery G-28 left/center/right speaker's front baffle, and you'll see what appear to be three woofers on either side of a horn-loaded tweeter. But of those six drivers, only two are active drivers fed by the amplifier. The other four are passive radiators, which are propelled into motion by active-woofer-induced changes in air pressure within the sealed enclosure. The passive drivers allow the pressure in the box, which the active drivers generate, to be put to work producing bass. In its effect, this is a more disciplined approach than venting the enclosure, which would bring the potential liability of unsubtle whistling and chuffing port noise. Klipsch employs the same strategy in the SW308 subwoofer, with two sidefiring 8-inch passive radiators complementing the front-firing 8-inch active driver.

The Klipsch Gallery is one fine-looking line of speakers. Their black injection-molded polymer enclosures feature a 12-step finish that gives them a glossy gleam. The biggest speaker in the line is the G-28 LCR described earlier. There's also a G-28 package ($3,700), although it includes the dual-woofer G-16 for use in the surround channels—not the one-woofer G-12 used in this review—along with a 10-inch sub. The Gallery line also includes a G-16 package ($2,450), including the G-16, G-12, and 10-inch sub; a G-12 package ($1,500) with five G-12s and 10-inch sub; and a G-42 package ($1,550) that combines the G-42 soundbar and an 8-inch sub. All individual speaker models are available separately. Klipsch unexpectedly tops off the line with a standalone, one-piece, stereo-powered speaker, the G-17 Air ($550), which can be fed with Apple AirPlay or via an Apple-compatible USB input or analog input.
The review system's big G-28 and small G-12 share the similar 1-inch, phase-plug-bedecked, titanium-diaphragm tweeter mated to one of Klipsch's signature Tractrix horns. Horns in general increase speaker sensitivity and output by narrowing the tweeter's dispersion and focusing the sound over a smaller area. Tractrix is a mathematical term that describes a specifically derived curve, which here has been applied to the horn's tapered shape. This particular horn has a claimed coverage of 90 degrees by 90 degrees, so its tweeter dispersion pattern remains uniform whether you install the speaker vertically or horizontally. The woofer dispersion in this configuration is not similarly symmetrical, however. Presumably, many readers will want to install the center-channel G-28 horizontally beneath or above a flat-panel HDTV. Incidentally, the G-28's model number (as with other Gallery models) refers directly to its width, so consider whether a 28-inch speaker would sit well with your HDTV.
The tweeter features what Klipsch calls "linear travel suspension," meaning the diaphragm is ringed in a separate flexible surround that is claimed to allow more piston-like movement and produce less distortion. This technology is borrowed from various higher-end Klipsch lines, including the bleeding-edge Palladium. A phase plug in the center helps to smooth the tweeter's response. The G-28's and G-12's 3.5-inch woofer cones utilize IMG, or injection-molded graphite, a carbon-infused resin. Klipsch used a tough fiberglass weave for the SW-308 sub's single 8-inch active and dual 8-inch passive woofer cones.
While their shape and sonic balance seem born for wall mounting, the Galleries also present a freestanding option. Both the G-28 and G-12 come with heavy smoked-glass pedestals and screw holes positioned for vertical or horizontal use. So if your flat-panel HDTV rests on a credenza, you can arrange the speakers around it, though likely at the expense of some of the midbass richness described previously. The speakers also come with mounting holes—two in the large speaker, one in the small—for direct wall mounting. They aren't keyhole-shaped, but cross-shaped, so once again, your vertical/horizontal options remain open. Continuing that train of thought, the back panel's cable channels that lead from the metal-nut binding posts offer dual paths that allow versatile installation. In an inspired touch, the wraparound sheer cloth grilles have metal rods that fit into magnetized slots on the back of the cabinet.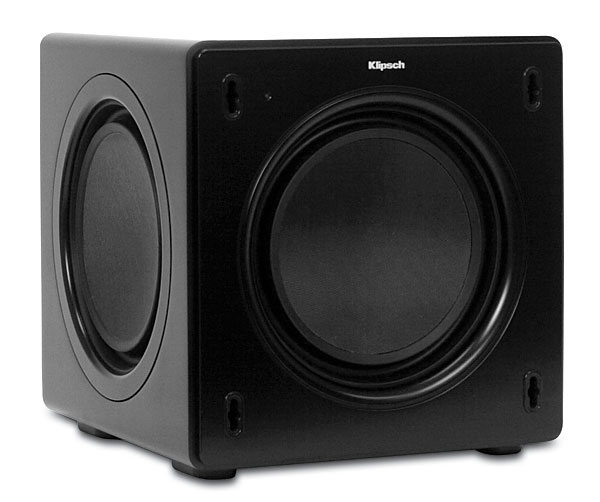 I set up a trio of G-28s to handle the three front channels, with vertical placement for the left and right channels and horizontal placement for the center. I was careful to keep all three tweeters at the same level, which required the left and right speakers to sit lower than the center. This gave the system a capital-H formation. Two G-12s handled the surround channels. When I set the levels, I noticed the surround channels required a boost relative to the fronts, presumably due to the differing sensitivities of the G-12 (rated at 91 decibels) and G-28 (rated at 94 dB). But if you own an inexpensive A/V receiver, you don't need to worry about these speakers' power requirements, as their claimed sensitivity is quite high. The sub required a setting of 60 percent of its volume control's range to produce a suitably loud test tone, a little more than the average subwoofer in my system. I set the sub crossover at 100 hertz, which proved to be a good match for the speakers.