Kaleidescape System Breaks $5k barrier!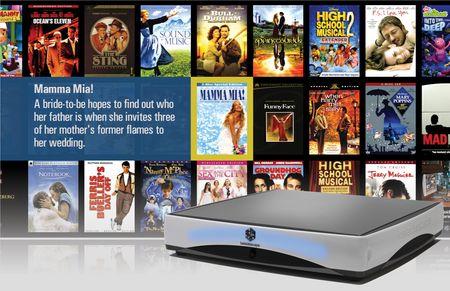 The Kaleidescape system has always been filled with The Awesome. But with Great Awesome also came Great Expense. Today, joining that elite club of Kaleidescape system owenership just got a whole lot easier on your credit line. They announced that they have rebranded the original Mini System (you can read my Sound + Vision review here...) as the new Cinema One. The Cinema One system will come with 1.5 Terabytes of storage, or enough for approximately 225 DVDs or 2500 CDs.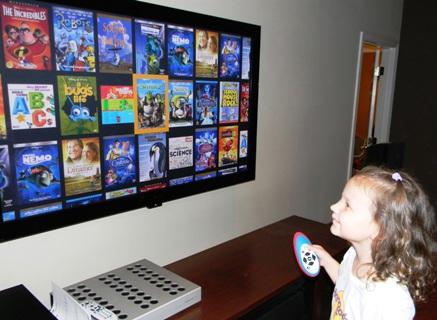 The system also includes Kaleidescape's new Kid's Remote, (read more about the Kid's Remote here...) which, if your kid's are anything like my 4-year, Lauryn (shown above using the Kid's remote) will be a HUGE hit in your home.
Full press release after the jump, and check out my extended post on the new system by clicking here which Kaleidescape CEO, Michael Malcolm described thusly: "Read your new blog at dinner tonight...and I laughed and laughed. It's the best article on Kaleidescape to date!" 
Kaleidescape Announces Cinema One, an Out-of-the-Box DVD Movie Server, Priced Below $5,000 MSRP in the United States and Canada
Company Targets Broader Market, Provides Features Designed for Young Children
SUNNYVALE, Calif., December 2, 2010 – Kaleidescape, Inc., creator of the movie server product category, today announced the availability of Cinema One, an out-of-the-box DVD movie server that provides hassle-free, instant viewing and management of an entire movie collection. As the company's first system priced below $5,000 US MSRP, Cinema One brings the award-winning Kaleidescape experience to a broader set of customers. It also meets the needs of young children by automatically switching to a simplified user interface when the Child Remote is used.
"Our dealers and customers have been asking for a simple-to-install Kaleidescape System," said Michael Malcolm, Founder, Chairman, and CEO of Kaleidescape. "The Cinema One makes it possible for many more customers to enjoy the richness of the Kaleidescape experience."
"The Cinema One is the perfect system for families because DVDs offer the broadest selection of children's content," said Leonard Bellezza, President of Lyric HiFi & Video, a leading high-end audio video custom integrator in New York City for over 51 years. "With the Child Remote, even a toddler can find his own programs, and when he presses play, it starts instantly without trailers, advertisements, and menus."
Offered at $4,995 MSRP in the United States and Canada, Cinema One is a single component movie server capable of storing 225 DVDS or 2,500 CDs - yet installs as easily as an ordinary DVD player. Cinema One is based on and replaces the Kaleidescape Mini System, and is ideal for the retail market because it eliminates the need for storage configuration.
Key Benefits
Instant Viewing - Press play and any movie, concert, or television episode starts instantly, without the frustration of having to physically locate the disc, navigate confusing menus, or sit through advertisements. Easily browse and sort an entire collection by title, actor, director, genre, year-of-release, or running time.
Kid Friendly - Even toddlers can find and play their own movies, and parents have complete control over available content.
Simple Installation - Installs easily by connecting power, the Internet, and a television display. With the included Kaleidescape Remote and Child Remote, Cinema One is ready for immediate use.
Independent Music Zones - Includes two independent music zones, enabling a movie to be watched in one room while music is enjoyed in other parts of the home.
Effortless Expansion - For more storage or to share movies with another TV, simply add another Cinema One or a Kaleidescape player to the home network. In fact, any Kaleidescape component works seamlessly with the Cinema One.
LATEST VIDEO