Kaleidescape 1U Server & M500 Player Page 3
The Collections view organizes preset lists like Blu-ray (for all your Blu-ray titles), plus genre-oriented choices like Action and Adventure, Concerts and Musicals, Date Night, etc. The New collection auto-populates anything you've imported in the last 30 days, and you can tag anything in your collection to the Watch Soon Collection (I love that one). You can also tag certain scenes in a movie, which will then populate the Favorite Scenes Collection. And you can name your Favorite Scenes either through a programmed remote control solution or the system's web browser control interface (the stock remote doesn't work for this). You can see how über cool it is to have your favorite home theater demo clips locked and loaded for instant showing off. Of course, the drag is that DVDs don't do it for demo in the Blu-ray era. The fact that you have to schlep Blu-rays into and out of the tray blunts this feature's effectiveness, even if it's faster than just loading your discs into and out of a standalone player. But this feature's future is probably brighter in the Disc Vault era. The Paused Collection tracks the movies or TV shows that you've started but not finished and keeps them in a list, even if it's a Blu-ray that's been removed from the network. If you select a Blu-ray from the Paused list, it will simply ask you to restore the disc to a tray on the system to resume play, and it resumes right where you left off. DVD content resumes instantly. And just because you start a movie or program in one room doesn't mean you can't finish it in another. If you can't make it through that last episode of Mad Men in your theater room, you can polish if off from the master bedroom.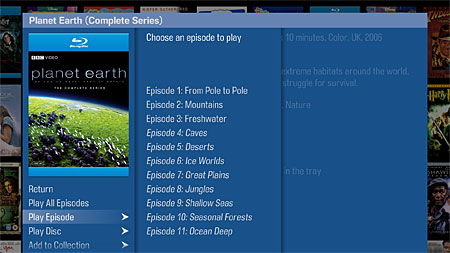 The List view shows all your movies in alphabetical order, with a side order of performance-enhancing drugs. As you vertically scroll your movies, moving to the right reorganizes your collection by several categories—genre, cast, director, year. Scrolling vertically on a highlighted category lets you find movies with the same actors, directors, etc.
There are some other cute points too. If a movie has multiple cuts encoded on the disc used for import, you can easily select which version you want to watch. For example, Spider-Man 2 on Blu-ray offers playing either Spider-Man 2 or the extended Spider-Man 2.1 cut. Blade Runner on Blu-ray allows you to watch either the 1982 U.S. Theatrical and International cuts, or the 1992 Director's Cut. The TV series treatment is awesome. Even though Lost seasons 1 and 2 are contained on several discs each, the Kaleidescape showed one entry for each season. Each season's splash screen lets you play the season by episode, or you can choose Play All Episodes. Stop in the middle or end of any episode, and you simply pick up again where you left off, until that season is complete.
I used the system exactly like I would if I owned it, which means I imported and watched tons of movie discs. On imports, I only fooled it once. A few days after street date, I imported the Sergio Leone/Clint Eastwood Man with No Name Trilogy on Blu-ray Disc, a set of three Westerns in one case with a single UPC. While the system imported all three movies, only the previously released The Good, the Bad and the Ugly had full metadata. While I could play the movies, without the full metadata, I couldn't skip the warnings, trailers, etc. The system requested the UPC for the set, but that still didn't do it. I had to inform Kaleidescape, and within a week or so, metadata for all three movies was in the system. My understanding is that this wasn't special reviewer treatment; any Kaleidescape owner's request would have resulted in action. The only playback glitch I encountered was with Spider-Man 2 on Blu-ray. When I played back the extended (via seamless branching) Spider-Man 2.1, the picture and sound started to play at slightly faster speed several times throughout the movie. Stopping and resuming play solved the annoyance for a time, but the issue recurred throughout this movie.
Kaleidescape's music management is also robust, but with a steeper learning curve. I like that you can play music and then browse and add to the music to be played, or even replace it. But there are other, simpler operations that are curiously absent or difficult. Most notably, there's no way to sort by or search for songs. Shuffling songs (Random play) by artist or genre is reasonably simple and very useful. But creating custom playlists (Collections, Mix Albums) can be cumbersome, especially if you want them composed of individual songs as opposed to broader categories such as genres or artists. On the music side, while I found a lot of capability, I found myself thinking about each step in the process, even after being tutored by Kaleidescape.
What More Could You Possibly Want?
A few minor things, just to keep up my curmudgeon's card. I'd love it if the menus did PiP, so that your streaming content would remain playing in a smaller window while you search through the menus. Also, outside of the Covers view, the system doesn't tie film series together entirely intelligently—Star Wars, Harry Potter, and Indiana Jones movies will all display alphabetically, not in order of release. I could see the Collections view being amended to offer more movie series playback options. Probably the biggest omission is the lack of integrated streaming apps. While Kaleidescape is aces for organizing movies and content you own, what about using Netflix or VUDU for rentals or streaming TV shows from the Web? When asked about this, Kaleidescape noted that its M-class architecture can support this kind of functionality, and it's looking at a future system update along these lines.
Conclusion: A Dream
The Kaleidescape's music management is a bit suspect, but with movies, its capabilities are beyond parallel, and that's more than enough. Compared with the full scope of the Kaleidescape's abilities, its Blu-ray capabilities are hamstrung, to a degree, for now. Expensive help is on the way, but as is, the Kaleidescape Blu-ray experience is still far beyond what you'll get from any other Blu-ray player. As a movie management system, Kaleidescape is completely unrivaled in so many respects that matter, but especially in its simplicity and usability. I'm all for anything that improves the experience of watching movies at home. And the Kaleidescape does that, for anyone in your house who can pick up a remote control. There's really nothing out there I've seen that's comparable. The advent of 3D doesn't make Blu-ray feel even a little bit boring to me. But when the Kaleidescape is packed up and returned, watching my favorite movies, even on Blu-ray Disc, is going to feel a little plainer as an experience. The Kaleidescape isn't just highly recommended, it's fervently coveted. My only serious issue with it is that I have to send it back.