JVC: Everything But The Kitchen Sink
JVC/Victor obviously believes in covering all bases. For Japanese release, they're launching two new HDD-based recorders, with a twist.
The new DR-HX250 and DR-HX500 are 250GB or 500GB HD video recorders. Hope you can guess which model is which. Both players will support Dolby Digital and DTS audio, and both have HDMI connections. But, what makes them so interesting?
In addition to the built-in hard drives, both models also feature a DVD player/burner, and a VHS player/recorder. Yup, you read that right. VHS. Remember those? The players allow you to record two programs simultaneously. However, recordings from digital TV can only be recorded on the hard drive; analog TV can be recorded to either DVD or the VHS. Can you even buy VHS tapes anymore?
There are a total of 8 ways to configure the recordings in both models.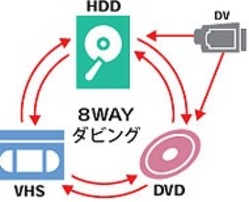 The DR-HX250 and DR-HX500 have a digital and analog TV tuner, D4, S-Video, and composite outputs. Slated for a Japanese launch in July, the 250GB DR-HX250 will sell for $715 (US) and $906 for the 500GB DR-HX500. Don't forget to rewind!-Leslie Shapiro
LATEST VIDEO
WHERE TECHNOLOGY BECOMES ENTERTAINMENT