JBL: Theater-in-the-Round
Need a speaker that will fit in a corner? What about something that will work in the middle of a room? JBL has the speakers for you! The new JBL Control NOW speakers are quite unique. Each speaker is a rounded 90 degree quarter-circle, designed to work alone, or as a set. How do they work?
Each speaker has a titanium-laminate tweeter and two 4-inch drivers. Put two together for a half-circle dipole-type effect. Or, in a rather interesting array, you could connect four together for a complete circle of sound. Mounts are included to hang the ring o' sound from a ceiling fan mount.
Don't worry about trying to figure out the impedance dilemma; the Control NOW speakers include a wiring adapter for use when connecting multiple speakers. Even if mounted together, the speakers can be wired as a single channel or multiple channels.
The JBL Control NOW speakers are available in black, but an all-weather outdoor compatible set is also available in white.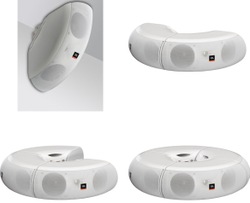 The specs look good. Frequency response is 80 Hz - 30,000 Hz. You'll want to add a subwoofer for better bass response. Recommended amplifier power is 150 watts, peak handling is 300 watts. Sensitivity is 90 dB, and the nominal impedance is 8 ohms.

The JBL Control NOW speakers are available for $249 each, and the Control NOW AW (All Weather) will retail for $279 each. For unique home-theater setups, the unique JBL Control NOW speakers could be just what you're looking for. -Leslie Shapiro
Watch the video here
LATEST VIDEO