JBL Synthesis Introduces Lower Price Immersive Controllers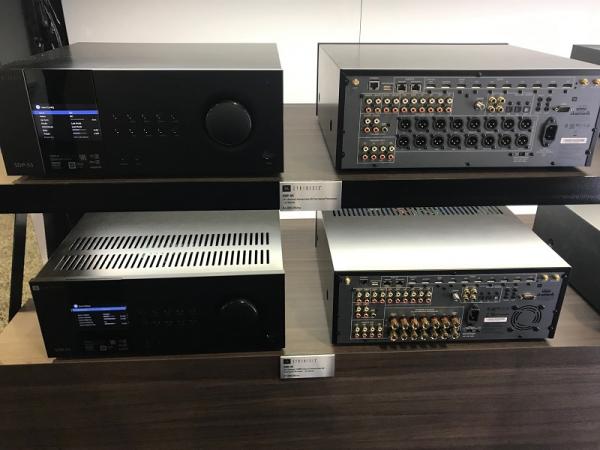 High-end home theater owners know JBL Synthesis as a brand that delivers high-end, no-holds-barred performance. The company today introduced two 16-channel immersive surround-sound controllers at CEDIA that bring renowned high-end performance and a fully loaded feature set to drastically lower price points.
The SDP-55 provides surround processing without amplification, while the SDR-35 adds 7 x 100 channels of on-board amplification with processing and pre-out connections for adding the amplification needed for a full 16-channel setup. Systems can be configured to accommodate a variety of speaker layouts but the most common 16-channel layout will be a 9.1.6 system.
Both components are identical in performance, except the SDR-35 includes seven channels of on-board power. Features include four independent DSP channels, IMAX Enhanced certification, and decoding for Dolby Atmos, DTS:X, and Auro-3D. Both also feature the latest version of Lexicon's proprietary Logic16 upmixer, bringing natural three-dimensional sound to any input source — from mono to 15.1 channels.
Room correction is provided by Dirac Live, which includes the top tier of Dirac's new bass-management suite for integrating multiple subwoofers into a system. Also onboard is a new 24-bit/192-kHZ ESS Sabre 9028 Pro DAC featuring 114 dB dynamic range and providing top shelf A/D and D/A conversion on all channels and in all zones.
Both components are equipped with seven HDMI inputs and support Dolby Vision, HLG, HDR10, and HDR10+ high dynamic range (HDR) formats in addition to supporting HDMI2.0b with HDCP2.2 and 3D video. Further, the HDMI board is removable and replaceable so it can be easily updated to full HDMI 2.1 capability when the format is finalized, ensuring owners aren't abandoned by a technology upgrade.
JBL also showed two new Synthesis amplifiers designed to work with the SDP-55 and SDR-35 controllers: The 7 x 100-watt SDA-7120 and 2 x 200-watt SDA-2200. Both utilize dynamic Class G amplification and support Dante audio over Ethernet, allowing a single Category-rated cable to carry output signals from all channels between processor and amplifier, greatly reducing cable clutter. XLR balanced and RCA unbalanced connections are also supported.
The SDR-35 and SDP-55 will be available in January 2020 with retail prices of $7,500 and $6,000, respectively. The SDA-2200 and SDA-7120 amplifiers will also ship in January with retail prices of $3,500 and $4,000.