Mid-Priced JBL 'Phones Deliver High-Priced Sound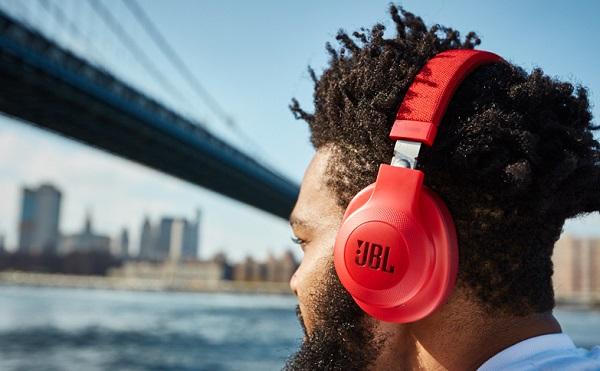 These days, it seems that listeners have no choice but to spend hundreds of dollars to get good quality Bluetooth headphones. The JBL E55BT (MSRP $150) has the sound of a $300+ headphone, with good performance and a wired option, all in a range of colors to suite any style.
The E55BT is part of a new lineup of headphones from JBL. The E55BT is the top of the line, and the only one that is an over-ear design. There is also an in-ear model (E21BT) and an on-ear model (E45BT) as well as non-Bluetooth models. With Apple's newest products lacking a headphone jack, Bluetooth models are even more popular than ever.
The E55BT is a lightweight, comfortable design. It's available in 5 colors: black, white, red, blue and a very tropical teal. The fabric-wrapped headband is flexible, with minimal cushion. It doesn't need much since the E55BT rests securely around the ears, so the weight is evenly distributed. The earcups have a plastic housing with a soft leather foam pads. The plastic housing does look a bit cheap, but have no effect on the sound quality, so if it keeps the costs down, why not?
The headphone is quite comfortable. The earcups swivel for a secure fit, and they also fold flat for easy transport and storage. At this price, it would have been nice to have a carrying case, or at least a bag to keep them protected while travelling. The left and right cups are clearly labeled inside each cup.
There is a micro-USB charging port on the left ear cup. The rest of the controls and inputs are on the right cup. There is a power slider switch and a three-button section that controls volume, transport playback, and controls for taking phone calls. There is also an input for a wired connection - more on that later. The last control is a Bluetooth button that is utilized to pair to multiple devices. The E55BT, along with the other E-series Bluetooth headphones from JBL, can all seamlessly switch between two playback devices.
The E55BT comes with a fabric-coated audio cable for wired playback. It's such a great feature, because the sound quality is so much better than listening via Bluetooth. It's also important to remember that Bluetooth isn't appropriate in every situation - just ask the guy sitting next to me on my last cross-country flight who couldn't use the in-flight entertainment because his Bluetooth headphones didn't have a wired connection. It should be noted that this is not a standard 3.5mm cable. One jack is, so it can plug into a standard headphone output on an MP3 player, a (non-iPhone 7) smartphone, or a Delta Airlines jumbo jet. However, the other end is smaller and only fits the JBL headphone - don't lose this cable because a standard audio cable will not work.
The E55BT will play for up to 20 hours on a single charge when using Bluetooth, and it will recharge in about 2 hours. It features a 50mm driver, and the sound is quite impressive. The E55BT has a very natural, full and balanced sound. With that large driver, the bass is quite nice. It's powerful, but never overpowering or boomy. It is tight and impactful, and most importantly, controlled. The high-end is also rather balanced. There is a hint of harshness in the upper mid-range that becomes more pronounced at louder listening levels. It's most noticeable on female vocals and tenor male vocals - Ed Sheeran and James Bay, for example. Many people will like the bright signature of the E55BT. Personally, I prefer a warmer, darker sound.
As someone whose entire career was devoted to getting the best sound possible, I like to think that money is no object when purchasing audio gear. The JBL E55BT is a reasonably priced headphone with a sound that makes you forget the price. Sure, you could spend more and get a better-sounding, better quality headphone. The E55BT is not exactly a bargain-basement price, but for what you get, it is a good value. Let's face it - the reality is, money is tight for many people these days, so finding a good value in audio gear is priceless.