Japan's Blu-ray Sales Boom
While Blu-ray might be seeing slow sales in the U.S. market, Japanese sales of Blu-ray in June topped 122,000, hitting the 6-figure/month mark for the first time ever. Compared to May's 82,000 units, you can see why it's a big deal.
Speculation abounds as to why the sudden jump. Japanese workers receive a mid-year bonus check in July, and many people are upgrading their home theaters in anticipation of the August Olympics. But, technology might be driving the surge.
A new Dubbing 10 feature was just introduced that allows viewers to make up to ten copies of TV shows they've recorded. Until now, only one copy was permitted. Blu-ray Disc players with HDD recorders are gaining popularity too. Sony's BDZ-T50 has a built-in HDD with 250GB to record up to 50 hours of HDTV. It costs about $670 US.
The most affordable player in Japan is the Sharp BD-AV1 that retails for $420 US. However, this unit, like other lower-cost models, don't record to the newer 2-layer Blu-ray Discs, though it will play the discs. This limits record time to 3 hours of HDTV on a single 25GB layer.
Japan's market is strictly for recorders - there are no playback-only machines available.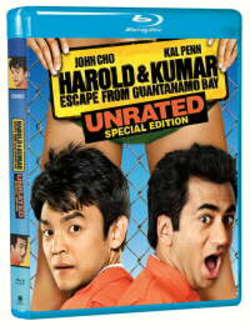 I have to wonder what it's going to take to push the U.S. market in a similar way. Maybe the Blu-ray release of Harold & Kumar Escape from Guantanamo Bay: Special Edition will spike sales. You never know. -Leslie Shapiro
Photo from Getty Images
LATEST VIDEO