Jamo Updates Stylish Concert Series Speakers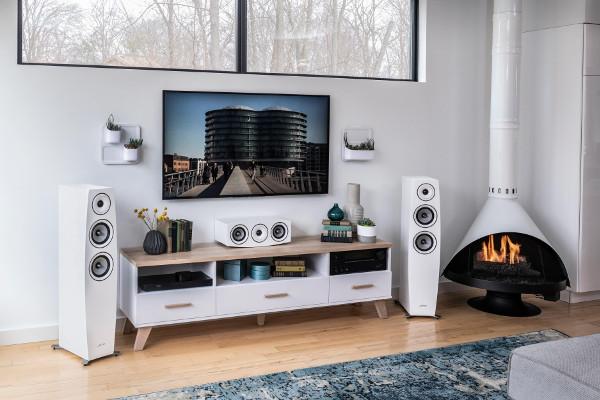 Jamo, the Klipsch-owned Danish speaker company known for its stylish speaker designs, has updated the acoustic and aesthetic design of its flagship Concert speaker series.
The refreshed Concert 9 lineup comprises the C 97 II ($825 each) and C 95 II ($550 each) tower speakers, the C 93 II ($700/pair) and C 91 II ($550/pair) bookshelf models, the C9 CEN II center-channel speaker ($450 each), and the C 9 SUR II surround speaker ($775/pair).
All models feature redesigned 1-inch silk-dome tweeters with "extra-large" surrounds mounted in anti-diffraction waveguides to achieve "smooth high-frequency extension" on and off axis and "hybrid composition" midrange drivers designed to be driven hard without comprising clarity. The woofers and midrange drivers incorporate a "long displacement surround," which is said to produce cleaner bass.
The C 95 II and C 97 II floorstanders are two- and three-way bass-reflex designs with ±3 dB low-frequency limits of 37 and 32 Hz, while the C 91 II and C 93 II monitors are two-way bass-reflex designs with ±3 dB low-frequency limits of 65 and 45 Hz. The C 9 CEN II center-channel speaker is a two-way bass-reflex design with a woofer-tweeter-woofer layout that plays down to 55 Hz and the C 9 SUR II is a purpose-built three-way surround speaker housed in a six-sided cabinet with drivers on two of its front angled sides.
All models are available in a furniture-grade black ash, white, or dark apple finish with a polished chrome logo and a woven tweed grille that attaches to the speaker cabinet magnetically. A choice of white or gray fabric is offered with white cabinets and charcoal gray with the other finishes. Baffles are made of MDF with a satin paint finish and floorstanding models are stabilized with cast-metal feet that extend out from the base of the cabinet.
For more information, visit jamo.com.