Jackass Presents: Bad Grandpa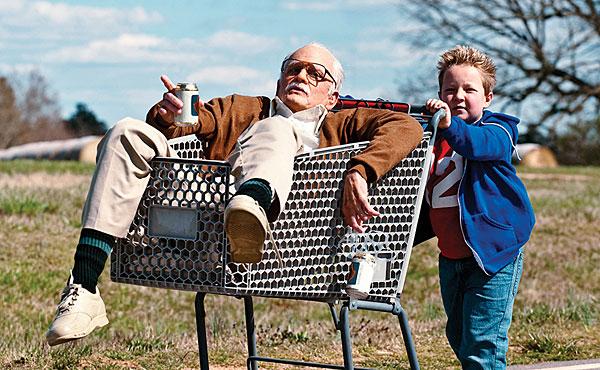 The geriatric Irving Zisman (a heavily made-up Johnny Knoxville) is driving his grandson Billy to live with the boy's estranged father. But the recently widowed Irving is more interested in a good time than in being a responsible guardian, and the old man's shameful behavior plays out to the shock and dismay of real folks in a variety of uncomfortably crass scenarios ranging from a funeral to a strip club and beyond. It's so wrong that it's hilariously right.
The movie was shot with an array of covert digital cameras, and the quality of the 16:9 picture varies on Blu-ray. The modern eye can almost forgive some of the flaws—video streaking, noise, hotspots—as telltale signs of ubiquitous "reality TV." But there is also noticeable ringing in certain shots, as well as a distracting, flickering moiré on fine patterns, in addition to some weird focus anomalies and even some unintentional double images.
Audio too is a mixed bag, and rarely does it impress. Some participants are professionally wired for sound, others are subject to the limitations of hidden microphones, and so subtitles are necessary at times to bridge the gap of muddled dialogue. There's a big but credible crash as a kiddie ride goes awry and catapults Grandpa through a store window, and a dog barking off screen hints at some proper use of the 5.1 available channels of DTS-HD Master Audio. The soundfield opens up in a nightclub scene, and the low-frequency effects are nudged up a tad during the ladies' night sequence, but I would be lying if I reported any genuine "wow" moments here.
The movie is available in its R-rated theatrical form plus an Unrated cut with 10 minutes of further asininity, mostly allowing the same situations to play out longer. Three deleted scenes, alternate "marks" (read: innocent victims), plus behind-the-scenes vignettes for eight gags serve up even more new footage. This combo pack also includes Bad Grandpa on DVD along with a Digital Copy in two flavors: UltraViolet and iTunes.
Blu-Ray
Studio: Paramount, 2013
Aspect Ratio: 1.78:1
Audio Format: DTS-HD Master Audio 5.1
Length: 92 mins.
MPAA Rating: R/Unrated
Director: Jeff Tremaine
Starring: Johnny Knoxville, Jackson Nicoll, Greg Harris
Bearing the lofty Jackass mantle, this feature film eschews the basic format of the erstwhile MTV series, which bombarded viewers with a string of standalone stunts and running jokes performed by a brave troupe with a high tolerance for pain. Instead, Bad Grandpa emulates the Borat model, crafting a basic plot and characters as a scripted backdrop for multiple outrageous set pieces that unfold before unsuspecting bystanders.
LATEST VIDEO