Ip Man 3
In the first two acts of the film, Ip Man (Yen) is drawn into a brutal conflict when underhanded property developer Frank (Tyson) sends his goons to pressure a local school into selling their property. The last act of the film has Ip Man and his wife dealing with personal tragedy while Ip Man is also issued a challenge by another wing chun master (Zhang Jin) who wants to claim Ip Man's title of grand master.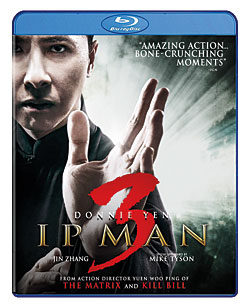 The film doesn't flow smoothly, but with Ip Man, the best bits are always in the awesome action sequences. This time they truly are spectacular, with action director Yuen Yoo Ping (The Matrix, Kill Bill) bringing the stunts. Despite the campy performance and Tyson's dubious Cantonese, the ultimate showdown between Yen and Tyson is pure, campy, over-the-top grindhouse action.
Ip Man 3 is an HD production shot on the Arri Alexa XT Plus that arrives on Blu-ray in an AVC 1080p encode from Well Go USA. It is a generally pleasing transfer with excellent color and contrast, but there are some issues with banding that may be inherent to the digital source. Other problems like video noise and edge enhancement are nonissues. Detail is sharp and extends well into the backgrounds.
This release gets a Cantonese DTS:X audio track with English subtitles (English, French, and Spanish DTS-HD Master Audio 5.1 tracks are also included). While the mix is certainly exciting in the sense that the fight sequences are aggressively mixed with deep low end and lots of discrete panning through the room of body blows and other Foley effects, it didn't really necessitate being a DTS:X track. Those additional channels don't add much in this instance.
The extras on Ip Man 3 feel like afterthoughts, though they are all in HD. There's a two-part making-of that clocks in at barely over three minutes, interviews with Yen, Tyson, Yen and Tyson together on press day, and the director, Wilson Yip, which add up to nearly 30 minutes altogether, a two-minute behind-the-scenes featurette, and three theatrical trailers. Only the interviews are worth watching.
Blu-Ray
Studio: Well Go USA, 2015
Aspect Ratio: 2.35:1
Audio Format: DTS:X/DTS-HD Master Audio 7.1 core
Length: 105 mins.
MPAA Rating: PG-13
Director: Wilson Yip
Starring: Donnie Yen, Lynn Hung, Jin Zhang
Director Wilson Yip returns to helm the third and ostensibly final installment in the Ip Man saga with Ip Man 3. As with the previous films, international star Donnie Yen returns to the role as wing chun legend Ip Man, and the film also, questionably, brings Mike Tyson on board as a ruthless and violent American real estate developer.