Inteset Denzel TP420-SD Media Server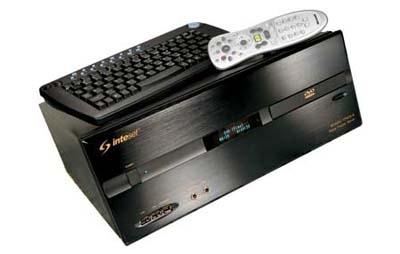 It's not cheap, but Inteset's luxury-class Windows Media Center server does it all, and does it well. After years of false starts, the age of convergence appears to be upon us. And the future has finally arrived at my doorstep - one possible future, anyway - in the form of the Inteset Denzel TP420-SD media server. The Denzel could replace no fewer than four devices in my rack - music server, TiVo DVR, CD/DVD recorder, and high-def digital TV-tuner- and also function as a basic A/V preamp/processor and system remote control. But it also brings along a hard-drive movie server, multizone audio playback, still-picture and camcorder-video storage, and Internet access. What's more, with Boston-based Inteset's Vana VA6420-SD media expander ($2,395, which I also tried out), all this goodness can be spread around via an Ethernet home network - just add additional Vanas as needed.
At heart, the Inteset Denzel TP420-SD media server is a fully tricked-out PC running the Windows XP Media Center Edition 2005 (MCE) operating system, with a full terabyte of storage on board and a built-in DVD-R drive for ripping movies and music from your discs. What's different is that Inteset has seamlessly piggybacked proprietary software modules onto the MCE software to allow multiroom audio and DVD/movie-server functions.
The audio module lets you configure the Denzel to serve two additional zones with independent music via line-level stereo outputs (you'll still need powered speakers or an amp/speaker combo for each room). The system can be controlled from the remote zones by a third-party RF (radio-frequency) remote or wired IR-repeater, or any Web browser running on a laptop PC or wireless handheld PDA. The browser option adds onscreen display of track/album data and cover art.
Inteset's movie-server module lets you store DVD movies on the Denzel's drive, then search or browse through them onscreen via cover art, actor, director, or genre. The company's database of DVD cover art and title info on its own servers is automatically tapped when you enter the UPC (bar-code) number from the back of your DVD's keepcase - very slick. Public-domain DVD-ripping software, working in the background, does the heavy lifting when you add movies to your library, but Inteset delicately leaves it to the system installer to add this.
SETUP There's no mistaking that this is a computer, and a complex one. Like sausage-making, its configuration is best left to back-room experts - in this case a qualified Inteset dealer/custom installer. However, with some help from the company, I installed the Denzel TP420-SD in my main home theater, connecting it at various times to a 42-inch plasma TV via component video and to a 50-inch DLP rear projector via the DVI output.
I initially made 7.1-channel analog audio connections to my power amp via supplied miniplug-to-RCA cables, but later tried connecting the Denzel's coax digital audio output to my preamp/processor. In that case, it delivered PCM stereo and Dolby Digital or DTS multichannel bitstreams like any DVD player.
The Vana Media Extender was set up in my family room, where it drove a 5.1-channel audio system and a plasma screen via a component video connection. The Vana lacks the Denzel's huge storage but differs from a traditional MCE extender in being a full-fledged computer with its own analog TV tuner, DVD/CD drive, and ability to record shows or other content locally. Plus, it'll rip CDs or DVDs like the Denzel, though Inteset recommends setting it to store music and movies in the Denzel's huge centralized library.
I connected the Denzel and Vana to each other and the Internet through my wired Ethernet home network. Inteset supplies a generic wireless keyboard/mouse combo with each component for setup and operation in Windows XP mode, though the company discourages using the Denzel for browsing the Internet because it's too easy to pick up viruses - they suggest you use another desktop on your network for downloading content and then drag it over to the Denzel. The standard Microsoft MCE remote, also supplied with both units, handles all everyday functions unless you've got a fancy Crestron-style touchscreen or other controller.
The onscreen user interface on both the Denzel and Vana is essentially that of the Windows Media Center Edition operating system, which is really pretty good. Menu structures are simple and intuitive, and response is fast enough, though the Vana was noticeably slower, especially when I was selecting a movie or CD to be streamed from the Denzel.
MUSIC PERFORMANCE As with most music servers, the Denzel/Vana system's audio quality depends on the data rate of the audio files you rip (or download). You can select rates and formats from the usual palette provided by Windows Media Player 10 - including MP3, WMA, uncompressed WAV, and WM Lossless - but you have to exit MCE and get your hands dirty in XP to select among these. Once your defaults are set, ripping and storing is simple from within the MCE environment, and CDs ripped in the high-performance WMA-VBR format sounded very good indeed. For example, the recent album Chris Colbourn and Hilken Mancini, an eponymous duo effort from the Buffalo Tom bassist (Colbourn) and ex-Fuzzy guitarist/vocalist (Mancini) retained all the intimate, slightly homespun charm and fully transparent sound of the original.
The Denzel's audio output comes from a 24-bit Creative SoundBlaster soundcard that delivers Dolby Digital and DTS decoding for up to 7.1 channels on its analog outputs. Unfortunately, there's no Dolby Pro Logic II or DTS Neo:6 processing to convert stereo to multichannel. Better to connect the soundcard's digital audio output to an A/V receiver to gain access to its full palette of surround processing.