Installation Pros Gear Up for Smart Tech Surge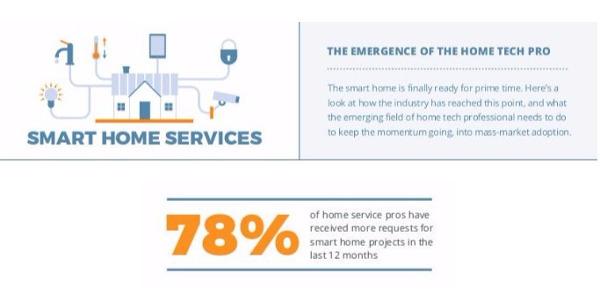 Homeowner requests for smart home installation and service are on the rise, according a new survey of 1,450 smart home installation and maintenance professionals.
The survey, conducted by CEDIA and the online home service marketplace HomeAdvisor, revealed that three out of four survey respondents — ranging from high-end custom installers to handymen — regularly receive requests for installation or service related to smart home devices and systems. What's more, they expect demand to increase over the coming year.
"This report shows that when it comes to smart home technologies, homeowners are migrating away from DIY to more of a 'do-it-for-me mindset,'" said Dan DiClerico, smart home strategist for HomeAdvisor.
Key findings of the survey include:
Most professionals receive service requests at least once a month — and many get them weekly and even daily.

A wide range of tradesmen are receiving smart home service requests. The proliferation of whole-home connectivity products has opened the door to pros specializing in security, landscaping, door and window installation, remodeling, handyman services, and design renovation, as well as traditional audio/video integration.

Projects go beyond single-device installs as smart home technology quickly becomes part of the renovation process; more than half of survey respondents report doing smart home installations as part of larger remodeling projects and six in 10 say non-smart home projects now lead to smart home projects at least half the time.

Home service professionals are actively seeking to learn and know more about smart home products, installation and maintenance.
The top reasons for homeowners wanting to install smart home devices include a desire to improve…
Ease and accessibility

Safety and a sense of security

Comfort and relaxation
Home professionals report that homeowners also want to make the house more fun or cool and increase efficiency.
"Having a smart, connected home is becoming more desired and accessible, driving demand for smart home professionals," said Dave Pedigo, CEDIA's VP of emerging technologies. "This survey allowed us to tap into a large qualified group of pros doing smart home installations. The results are pretty clear: There is tremendous growth opportunity in our market, and CEDIA will be there to offer the necessary skills and training for those home professionals who need to get up to speed."