Independence Day: Resurgence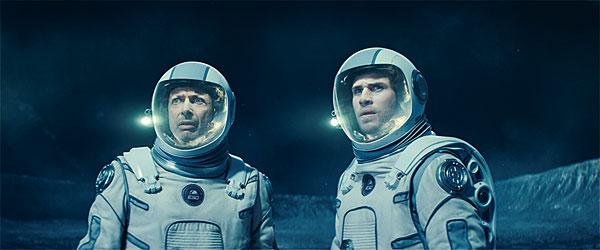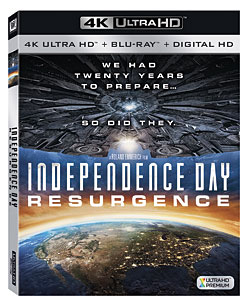 Most of the cast, including Jeff Goldblum, Bill Pullman, and Brent Spiner return. Liam Hemsworth takes the lead but lacks the comedic chops we've come to expect. Jessie T. Usher is inserted as the son of Will Smith's character, now a fighter pilot himself. Sorry folks, this time there's no Mr. Smith, whose charisma went a long way in making the original film so enjoyable to watch. Resurgence has spectacular special effects worthy of the two-decade gap, but it's too serious in tone, and without Smith it doesn't feel quite right.
Resurgence is a native UHD release, shot on Red Epic Dragon and Red Weapon Dragon cameras in 4K and 6K resolutions that utilized a 4K digital intermediate. The results are crisp textures and a filmic cinematic quality. The addition of HDR gives a nearly three-dimensional image, from the "pop" of the heads-up displays of the pilots to the greatly extended nuance in shadows. The visual effects in the action sequences such as laser blasts sizzle off the screen.
An Atmos track, backwards-compatible with TrueHD 7.1, is included. One of the better Atmos mixes out there, it has a beefy low end with lots of overhead action like beeps and laser fire. There are tons of atmospherics and solid discrete effects in the surround and back channels, with excellent overall balance. Dialogue is clean and stays above the fray.
The extras aren't plentiful, but we get a lengthy look behind the scenes in "Another Day: The Making of Independence Day: Resurgence." Director Roland Emmerich's audio commentary is worth a listen. Resurgence also comes with a 1080p Blu-ray, Digital Copy, plus an offer to unlock free in-game currencies and General Adams as a pilot in the mobile Independence Day: Resurgence – Battle Heroes game.
Blu-Ray
Studio: Fox, 2016
Aspect Ratio: 2.39:1
Audio Format: Dolby Atmos / TrueHD 7.1 core
Length: 120 mins.
MPAA Rating: PG-13
Director: Roland Emmerich
Starring: Liam Hemsworth, Jeff Goldblum, Bill Pullman
Two decades after Independence Day, the bug-like aliens that threatened humanity are back with their queen in Independence Day: Resurgence, bigger and badder than ever. Earth has been preparing for the return of the aliens, and humanity has come together to cooperate in unprecedented fashion, using the aliens' own technology to build up planetary defenses. No one anticipated the aliens would return more advanced, with a mothership 3,000 miles in diameter with impenetrable force fields and a swarm of hive-like fighter jets. Central command must devise a plan with the help of recovered friendly alien technology to take out the enemy aliens' queen.