HTD Nominated for Maggie Award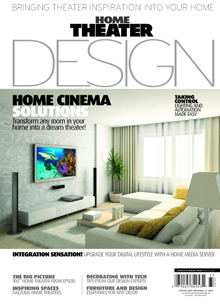 The
Western Publishing Association
has announced that
Home Theater Design
, a quarterly spin-off from
Home Theater
, is one of four nominees to receive the Maggie Award for best new trade or consumer publication.
HTD
blends high technology and high style, bringing theater inspiration into the home.
Alan Alpanian, senior vice president and chief creative officer for Source Interlink Media, spearheaded the launch of HTD last year. "We're thrilled about this nomination," he says. "I congratulate the entire staff for all their hard work and commitment to this project. Our goal was to create a magazine that represented an evolution of Audio/Video Interiors, which was the preeminent title in this area for 15 years. Even in these tough economic times, there's a definite need for a publication of this nature. The home-theater market is gradually growing and finding a path into every household in one way or another, and it's worth thinking—and dreaming—about the style of the environment in which that technology will be enjoyed."
The winner of the Maggie will be announced at the WPA's annual gala banquet on April 24 in Los Angeles, California.
LATEST VIDEO
WHERE TECHNOLOGY BECOMES ENTERTAINMENT