iHome Launches Voice-Controlled Outdoor Speakers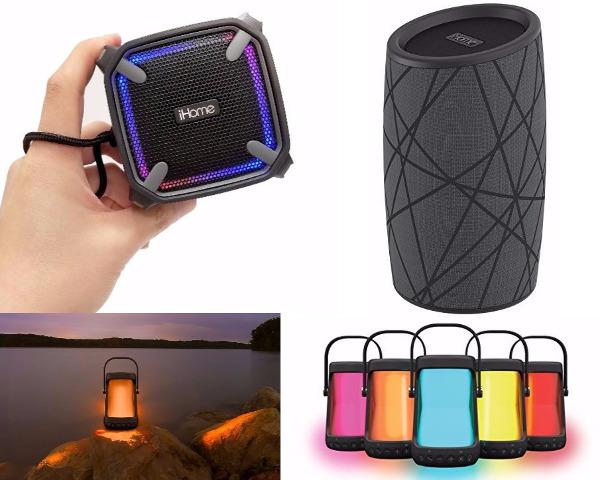 iHome is kicking off Memorial Day Weekend with a line of funky outdoor speakers that play tunes on request.
In Alexa/Siri fashion, a voice-powered personal assistant built into each speaker lets you play music without fumbling with a smartphone app. Push a button on the speaker, make your request, and Speak Music's Melody platform facilitates hands-free access to iHeartRadio, Spotify, iTunes, and other streaming services.
The line has five battery-powered portables ranging in price from $40 to $100. All support Bluetooth wireless streaming, are either splash-proof or water-resistant, and include an aux-in minijack and USB charging cable.
The iBT10 ($70) and iBT91 ($100) Lantern Speakers feature five color-changing lighting modes, including an emergency blinker—all controllable via a free app—and either a built-in speakerphone (iBT10) or 1-amp USB power bank (iBT91). Battery life is rated for up to 20 hours with music-only and up to 5 hours with the lantern turned on and music playing at moderate volume. Two speakers can be linked for stereo playback.
The mini iBT371 ($40) and iBT372 ($70) Weather Tough speakers—top left in photo—feature shockproof cabinets and are IP67-rated for resistance to dust and immersion in up to 3 feet of water. Battery life is rated for up to 8 hours and both models incorporate a speakerphone and are designed to float. The iBT371 has a couple additional features: five color changing accent lighting modes and audio caller ID with Apple devices running iOS 10 or later.
The cylindrical iBT77 ($50) speaker features an easy-to-grip fabric covering and carrying strap, doubles as a speakerphone, and has a passive radiator for enhanced bass. Its IP-65 rating means it's impervious to dust and water-resistant but not submersible. Battery life is rated for up to 16 hours.
For more information, visit ihomeaudio.com. All of the new iHome speakers are now available on amazon.com.